The Claude Monet Show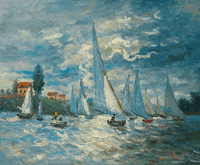 New York will be invaded by Impressionism this Friday, as an important and esteemed collection of the Impressionist master, Claude Monet, will be on display in the most comprehensive retrospective of the proclaimed artist in the last 30 years.
Spectators will become exposed to many of his early famous paintings of the suburban Parisian countryside and the famous water lilies series. However, the show will also include his lesser-known abstract late pieces, in thick impasto style, which appear to have influenced 20th Century artists such as the cubists – Picasso and Braque.
Organizers of the show are trying to examine Monet's universal appeal. Why does everyone seem to love Monet?
"It's because it makes you feel good about life. People just are happy when they look at Monets," said Joseph Baillio, curator at Wildenstein & Co. "Some intellectuals feel that Monet was a superficial artist because his images are so reassuring. Monet is challenging, but you have to be able to go into depth with Monet to be able to understand where the challenges are."
So if you get a chance, drop by the Wildenstein & Co. gallery on E. 64th St. and enjoy a journey of Impressionistic proportions…