The Dream got the elbow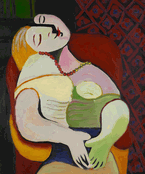 Steve Wynn the owner of the Mirage and Bellagio Hotels and Casinos from Las Vegas, accidentally punctured a hole in the Pablo Picasso painting "The Dream".
Wynn accidentally punctured a hole in it while showing the painting to some friends and accidentally elbowed the famed Picasso!
Wynn actually sold the masterpiece to a collector for an estimated $140 Million dollars. Wynn had decided to release the buyer from the sale agreement and to repair and keep the painting for himself.
Wynn, suffers from an eye disease that damages peripheral vision. When he punctured the hole in the 1932 Picasso portrait of his mistress Marie-Therese Walter, he said: "Look what I've done. Thank goodness it was me."
Nora Ephron wrote about the occurrence in her Huffington Post Blog, it is a very funny post, but I was very sad to hear about this occurrence. The Dream is my favorite painting, that I got for my mom this past May, hopefully they'll have it repaired soon.