The influence of Vincent Van Gogh on Expressionism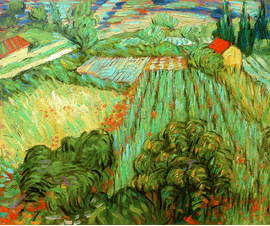 The Van Gogh Museum in Amsterdam is hosting an exhibition that looks at the Dutch artist's influence upon the German and Austrian Expressionist movement of the early 20th century.
Museum directors and private collectors in Germany and Austria were some of the first to buy Van Gogh's work. By 1914, there were 164 of his paintings circulating in their collections.
One of the earliest purchases was Field of Poppies, which ignited heated debate after the Bremen Museum acquired it.
The many traveling exhibitions organized in Germany and Austria helped to influence an entire generation of young artists, including Wassily Kandinsky, Gustav Klimt and Edvard Munch.
Some artists were particularly drawn by Van Gogh's technique, intense brushwork and sharp colors while others were influenced more by his emotional approach. This was particularly prominent in Van Gogh's psychological portraits. Some artists even started to pay tribute to Van Gogh's paintings, for instance, Egon Schiele painted various versions of Van Gogh's Sunflowers.
Vincent van Gogh and Expressionism has been on display since November 24 and will be showing until March 4 at the Van Gogh Museum in Amsterdam, if you make it down to Amsterdam in the next three months please let us know your impressions…