The Mystery of Van Gogh Dr Gachet Oil Painting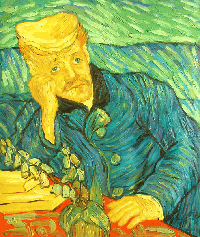 In May 1890, Vincent Van Gogh left the mental hospital in Saint Remi and went to the town of Auvers near Paris where he met the physician Dr. Paul Gachet. Dr. Gachet had been recommended to him by Pissarro, as he had previously treated several artists and was an amateur artist himself.
Van Gogh's first impression was that Gachet was "sicker than I am, I think, or shall we say just as much." Later Van Gogh did two portraits of Gachet in oils, the emphasis in all the Gachet portraits is on Gachet's melancholic disposition.
Van Gogh wrote to his brother in 1890 about the painting:
"I've done the portrait of M. Gachet with a melancholy expression, which might well seem like a grimace to those who see it… Sad but gentle, yet clear and intelligent, that is how many portraits ought to be done… There are modern heads that may be looked at for a long time, and that may perhaps be looked back on with longing a hundred years later."
1990 An unassuming Tokyo art dealer acquired Portrait of Dr. Gachet for a record breaking total of $82.5 million. The record auction price topped the previous champion, van Gogh's Irises, by some $30 million.
Ever since then the painting has been hidden from the public eye. No one has seen it for the past 10 years and people are starting to suspect that the man who bought it and died had the painting cremated with him… Hopefully the masterpiece will surface again as it is a true work of art and beautiful to behold.