A long awaited Van Gogh Auction, a true show stopper
From all the artists out there, "the master of the auction world" is Van Gogh. Every time a Van Gogh hits the auction house it's the best show in town.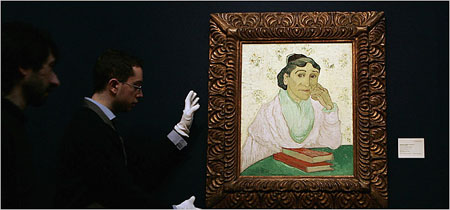 According to the Ney York Times, The Van Gogh Portrait, "L'Arlésienne, Madame Ginoux" will be auctioned off, May 2nd at the "Impressionist and Modern Art Sale", Christie's New York.
The painting has an amazing back story; it's actually a peace offering Van Gogh had made for Gauguin. Gauguin and Van Gogh had a very productive collaboration in Arles, but split ways after Van Gogh attacked Gauguin in a sheer act of lunacy. Van Gogh made this painting for Gauguin and followed it with a letter.
According to the Times, After Van Gogh's death, the painting made its way to the hands of Ruth and Harry Bakwin, a Manhattan family that traveled around Europe during the 1920s. The Bakwins bought works by Cézanne, Gauguin, Matisse, Modigliani and Picasso, among others, to display in their Manhattan town house.
Their Son, held on to this painting since his parents death in 1985. for reasons why he is selling he commented: "It was a very major decision of mine to sell it," says Mr. Bakwin, 78. "The risk of damage of any kind or robbery just felt a little too high. Much as I would have loved to continue holding it, it seemed to me too important to have hanging in a modest apartment in Chicago."
The other two significant Van Gogh portraits to have sold in the last 16 years achieved spectacular prices: $71.5 million for "Self-Portrait Without Beard" in 1998 and $82.5 million for ">Portrait of Dr. Gachet" in 1990, the record for van Gogh at auction. The "Madame" might pass them both.
In celebration of this event, OverstockArt.com will have the Madame Ginoux hand done. The reproductions will be made available by the end of May. It will be nice to own this painting handmade oil on canvas…
If you would like to back-order your "Madame Ginoux" email me and I will have an OverstockArt.com representative contact you.
I'm so happy for Vincent Van Gogh who had such a miserable ending of his life, and I think he would have been happy to see the love and attention people have for him today, more then a hundred years after his death.