The Scream Snatch still making headlines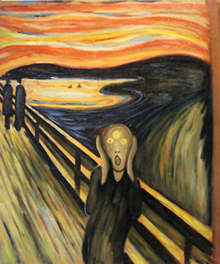 Was the theft of The Scream really about the artwork – or was The Scream snatch simply to divert police from another crime?
The icon of agony – The Scream was taken by armed robbers and carried off from the Munch Museum located in Oslo, Norway on a peaceful Sunday afternoon, August 2004.
Still a hazy mystery surrounds the story of that day.
There was one very odd feature of the crime: its timing. When the raid at the Munch Museum happened, police resources were focused on an armed robbery at the Norwegian Cash Service offices. A senior police officer was shot and died on the spot. All the country's top detectives were working on the heist and murder.
It seemed more than a coincidence. Could it be possible that the Munch Museum robbery was actually an attempt to divert police resources from their armed-robbery-and-murder hunt?
The theft of the painting may have had nothing to do with the desire to possess the painting or hold it ransom. Read more about it in the Guardian article – Bigger Picture Around the Theft of The Scream…