The Story Behind the Painting of Tintern Abbey
English Romantic landscape painter J.M.W. Turner reflected the elegant glamorous ruins of Tintern Abbey more than once in his paintings. William Wordsworth and Lord Tennyson left beautiful lines inspired by the mysterious beauty of its ruins. Memories of the feelings and people "that are no more". "Tears, Idle Tears" by Tennyson are full of sadness, regret, thoughts of death and friends already gone into the underworld.
Dear as remembered kisses after death,
And sweet as those by hopeless fancy feign'd
On lips that are for others; deep as love,
Deep as first love, and wild with all regret;
O Death in Life, the days that are no more!"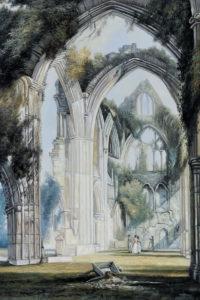 The mysterious Tintern Abbey is not a mythological place but a Cistercian monastery in Monmouthshire founded in 1131. Its ruins are still standing and attract tourists, poets and artists.
Surprisingly people of today, who have never heard of it know more than they realize about it by facts and associations. Who does not know unhappy king Henry VIII who is famous for his numerous marriages and the legend that he killed all of his wives? Bookstores and libraries are full of tragic novels of his passion for Ann Boleyn who he married and executed a few years later. The popular TV series The Tudors dedicated an entire season to this love story that changed the history of England. Trying to justify his divorce with his Catholic wife Catherine of Aragon, the king turned to Protestantism and ordered the so-called Dissolution of the Monasteries in England and Wales. One of the episodes of the TV series shows Henry's army crushing and robbing the monasteries, killing all the monks and putting the buildings on fire.
It seems that Tintern Abbey surrendered more peacefully and the building was granted to Henry Somerset, Earl of Worchester. The earl was not interested in living in it and started selling it piece by piece from the roof down. That is how its decay started in 1536.
The magnificence of its architecture became even more apparent during its slow demise, and it became a symbol of dying beauty. Fans of Jane Austen may recall that it is mentioned in Mansfield Park.
Turner's image of Gothic arches covered in growing vines, broken stained glass windows, and sharp diagonal shadows on crumbling walls creates a ghostly atmosphere of decaying splendor.
If the Earl of Worchester was not interested in living in Tintern Abbey, the intentions of many other noble recipients of royal gifts of dissolute monasteries were quite different. How else did the family of Downton Abbey's Lord Grantham end up in Downton Abbey?