Things you may not know about Degas
It was with a historical painting that Edgar Degas made his Salon debut in 1865, with "The Suffering of the City of New Orleans." The artwork symbolized the suffering of the American city, which was occupied by Union troops in 1862 during the Civil War. However, the painting had not garnered any attention. This happened because, in the same exhibit, Manet's "Olimpia" had monopolized the critics' conversation. "The suffering of the City of New Orleans" turned out to be also his last historical work of art.
Degas's point of view, his approach in making historical events was very theatrical. The history of the events was more as a spectacle than presenting what had really happened. However, in the mid-19th century interest in historical artworks began to diminish noticeably, because private collectors who commissioned paintings had changed their preferences.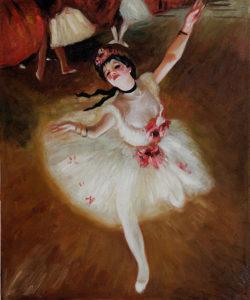 Before giving up this art genre, Degas painted a big number of historical events between 1855 to 1865, some of them in large format. His approach came from the painters who caught his attention, such as Dominique Ingres, Eugene Delacroix, and Puvis de Chavannes. Many of his projects never left the planning stage. The most important work of this period in Degas's life wasn't "The Suffering of the City of New Orleans," but rather the "Spartan Girls Challenging Boys," painted in 1860. The artist made sixteen drawings and two oil sketches representing this historical event, before settling to one approach. Furthermore, the historical paintings betray the doubts of the artist concerning the conflict between genre requirements and his interests. This is why Degas exhibited the painting as late as the fifth Impressionist show in 1887 and kept it in his studio throughout his life.
After passing through his historical period, Degas started to make portraits and eventually found his own unique style, which he is so famous for today, of painting dance and movement in the Impressionist style.