Tom Fedro Named ArtistBe.com June's Artist of the Month
A native of Illinois, Tom Fedro was born, raised and currently resides in Arlington Heights. Falling into art as a profession, he studied at Valparaiso University and the Illinois Institute of Art. The artist first exhibited his work in Chicago's Peter Mars Gallery. Fedro subsequently went on to show at Agora Gallery in New York, Chicago's Circa Gallery, The Studio in Algonquin, Illinois, Sherman Gallery and the Language House Gallery in River North, Chicago, the Brauer Museum of Art in Valparaiso, Indiana and Chicago's MK Galerie.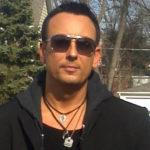 Along with gallery exhibits, Fedro's work can be found inover3,000 corporate and private collections in more than 15 countries across the globe. He has created special projects for the Broadway show "Rent," as well as NBC Television, Toogood Wineries, Amano Chocolates, Sweet Riot Candy Co., IBM and Chicago's Hotel Allegro.
Fedro uses his art to make the work of the soul more visible and real. He feels that, "Ultimately, art acts as both a mirror and a lens that gives presence and visibility to that which previously was unseen, unknown and not understood, often residing in the underground of the conscious."
Working mostly in acrylics on canvas, Fedro's art is playful and vibrant. He also adds "extra secret touches" to make the work distinctly his own. Bold portraits such as "Pretending", "Star Crossed" and "A Matter of Time" show the artist's unique perspective and style. While Fedro's use of color is a striking feature of his work, not all of his paintings showcase bright hues. His acrylic "Bailar Conmigo" embodies a pensive mood, with muted warm and neutral tones.
We are excited to have Tom Fedro, and his Neo Cubist Pop art, as part of ArtistBe.com. To view his vibrant portraits and abstract artworks, check out his collection in the ArtistBe.com gallery.