Revolutionizing the Wall Décor Industry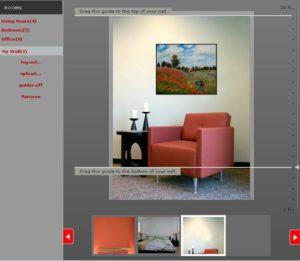 overstockArt.com is making purchasing art online a personalized and interactive experience with the launch of the "View in a Room" application.
The new tool will revolutionize the way people buy wall décor online. "View in a Room" allows customers to upload an image of a wall in their home and then place oil paintings that are available through the online retailer onto their walls. This new visualization tool essentially allows users to gauge how a painting will look on their wall before purchasing it and taking it home – something they cannot do in their local gallery.
"As an online retailer it is important to make shopping on our site a personal experience for our customers," said David Sasson, CEO of overstockArt.com. "'View in a Room' makes shopping for art online a personal, interactive experience, as people can now virtually experience the art in their home before purchasing it."
Although retail is a mature online category, shopping for wall décor online is not. As such, overstockArt.com has invested heavily in creating a unique experience shopping for art online. "This is what makes it exciting for us to offer tools that will revolutionize the buying process for an entire industry," said Sasson. "This new tool is bridging the gap between the touch and feel experience of shopping at a brick and mortar store compared to the obvious advantages of shopping online."
overstockArt.com feels confident its customers will embrace "View in a Room." "We are expecting to increase our conversion rate by 30 percent with this new tool because it's going to make shopping for art online that much easier," said Sasson.
"View in a Room" has two final enhancements scheduled before it is completely rolled out. In early June users will be able to test out framing inside the system and by late June customers can share an image of the painting on their wall with their friends and family via e-mail or their social networks. The final enhancement will make purchasing art online a social experience as people will enlist their social networks to help them select which oil painting will look best hanging on their wall.
"Most things on the Web aren't social quite yet, but that is changing and we are working to establish ourselves as an online retail leader by making shopping online not only a personal and interactive experience, but a social experience as well with this new tool," stated Sasson.