What is Gallery-Wrap? How does it look?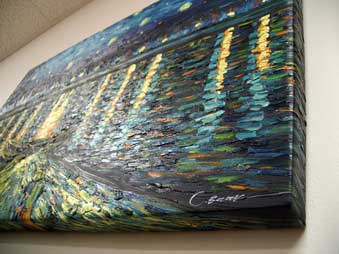 Many People have been asking me about Gallery Wrap and if it's right for their decor or style.
A gallery wrap is a technique of stretching and mounting a canvas over thick wooden bars creating a sense of depth in the painting. The Gallery Wrap doesn't have any visible staples or nails holding the canvas to the wooden stretcher.
There are two options with Gallery Wrap:
Continuous Wrap – The painting is literally wrapped over the edges of the thick wooden bars creating a sense of depth to the painting, even though many dislike this technique because the painting loses about two inches off the side so a 20×24 inches painting will become 16×20, I recommend wrapping larger artworks to enjoy the full effect of the wrap.
Border Color – The edges can be painted with another color, either a color that continues the edges of the painting itself or a standard color to give the painting a sense of border.
In any case, the painting is hung unframed. So, bring a little bit of gallery flair into your home with a Gallery Wrap, the latest contemporary presentation trend. With Gallery Wrap, the oil painting extends around the sides of the canvas, which is precision-folded and attached to the back—not the sides—of the stretcher frame. And your Gallery Wrap canvas painting will look equally amazing as a stand-alone work of art without an exuberant frame.
Gallery Wrap is my personal favorite, try it out today with a handmade oil painting from OverstockArt.com