Why have Klimt Oil Paintings become so expensive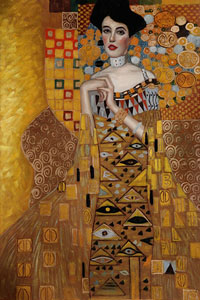 A few decades ago the art establishment ignored Gustav Klimt's oil paintings, now his paintings are among the most expensive ever sold surpassing Picasso and Van Gogh.
Last year, Ronald S. Lauder the cosmetics tycoon, bought "Portrait of Adele Bloch Bauer I" for a record breaking $135 million dollars. The painting is a testament of the style and passion of Klimt. Lauder hopes that Adele will propel his Neue Gallery to greatness and calls Adele "his Mona Lisa" hoping that Adele will draw the same crowds as the Mona Lisa does for the Louvre.
I found it fascinating to read how Lauder described his first encounter with Gustav Klimt oil paintings in Vienna as a young boy. He is quoted as saying: "It was like finding the Holy Grail… I was actually blown away by it. I had never seen such powerful images as The Kiss and Adele I."
The gold-ground portrait of Adele Bloch-Bauer is considered one of Klimt's best works. The elaborate portrait of a seated Adele, executed over the course of three years, features a dazzling array of gold patterns and layered shapes, with the fabric of her gown seeming to meld with the furniture and walls surrounding her.
I guess the Klimt paintings price tag caught up with the passion the paintings emit, the magnetic force of his art has made him the most luxurious artist of our generation.