Amadeo Modigliaini's Love Affairs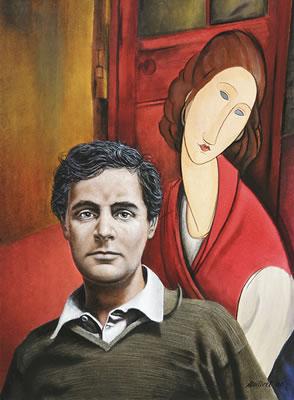 Amedo Modigliani's sex-appeal attracted women from the first moment he began to paint. The whole artistic process was impregnated with seduction. Beautiful and sensual, gentle and gallant, these are the characterizations of the women who fell in love with the lover, Modigliani.
When Modigliani arrived at Paris for the first time, he was a shy, young student. After only two years of living in the artistic capital of France, the boy turned into a man, sort of a suburb Prince. The "distinction" brought him numerous "love conquests." He attracted women with a remarkable ease. Many of these ladies became famous, by immortalizing them on canvas. He sought for the features that defined those women, and through a single brush stroke he made their portraits, that through their simplicity, they became unique. Modi treated his lovers with a sense of dignity, even at extreme poverty and deteriorating health.
Modigliani's life is punctuated by many stories, about his adventures escapades with women. Gilberte, Maud, Elvire, Margherita, Marie, Lucienne and Gaby are names who appear frequently in the Biographical texts about the artist. Furthermore, even Modi keeps them alive by immortalizing them on canvas, by dedicating them portraits and nudes.
Modi was adored by all the women legend has it, even by the house mistresses, who protected him. Among these is the famous Rosalie, the patron of Montparnasse Chez Rosalie. She tells the story:
"Poor Amedeo! Here, he was at home. When he was asleep under a tree or in a rut, they would bring him to me. Then they put him on a mattress in the back of the house, and he sit there until he woke up of drunkenness. And, God, how beautiful he was! All the women chased around after him!"
However, only the names of a few remained linked to the legend of the painter. Among these was Elvira, who was called Quique, the daughter of a prostitute from Marseille and an unknown father. She met Modi in a cafe in Montmartre. Amedeo immediately fell in love with her, saying that she was "made for love." Between them grew a strong sexual and free love, such as in most of Modi's relationships. Legend has it that one day the two were caught dancing naked in the garden of Amedeo's workshop.
Modi's heart was for a time dedicated to the eccentric English artist Nina Hamnett, who the painter met in 1914. The two had a romantic relationship kept away from his friend's eyes, just like the story with Zabrowsky's friend, Lunia Czechowska.
Another love story, however, tragic, is with the French singer, Simone Thiroux. She excessively protected Modi, had a total love, full of adoration. This suffocated Amedeo so much that became annoying for him. Simone gave Amedeo a son, but Modi did not want to recognize him. In desperation, Thiroux begged for his love in a farewell letter. Simone dies of tuberculosis, and the unrecognized child, Serge Gerard, will be given up for adoption.
So far, none of the women remained in Modi's heart. The only lovers who have become his muses and to whom he dedicated countless portraits were English woman Beatrice Hastings, a writer with whom he spent two years, and the shy Jeanne Hebuterne. The rendezvous with Beatrice is confrontational, between two strong personalities, odd and difficult. The portraits in which we recognize her as a model are not sensual, tender or full of love, but rather harsh, with a slight comic tint. In one of the paintings with Beatrice, Modi makes refers to the character of Madame Pompadour, the famous mistress of Louis XV.
In the years, he spent with Beatrice, Amedeo had developed his techniques in painting portraits. Through several simplifications and accents, he could compose a simple, personal and unique work of art. The bodies and the faces become elongated features, elegant. The eyes are represented only by some black holes, affording them a timeless status. His portraits are presented in a frontal manner with an anonymous setting and remind us of the Byzantine icons.
If the relationship with Beatrice was tumultuous, inflammatory, his last and greatest love, Jeanne Hebuterne had provided him stability and tenderness. To her he dedicated most of his portraits, but never nudes.