Banksy Brings Reimagined Art Classics to the Forefront
Banksy, a well-known but anonymous street artist, is making headlines again, this time he is showcasing his reimagined art classics. One of his pieces is set to go up for auction in October at Sotheby's Auction House. The painting Show me the Monet, is Banksy's reimagined version of Claude Monet's The Water Lily Pond, with shopping carts and a traffic cone added as a comment on the artist's view of current society. This is only one of the twenty-two pieces by great masters, such as Edward Hopper's The Nighthawks and Vincent van Gogh's Sunflowers that have been reinterpreted by Banksy the street artist and will be up for sale in the show.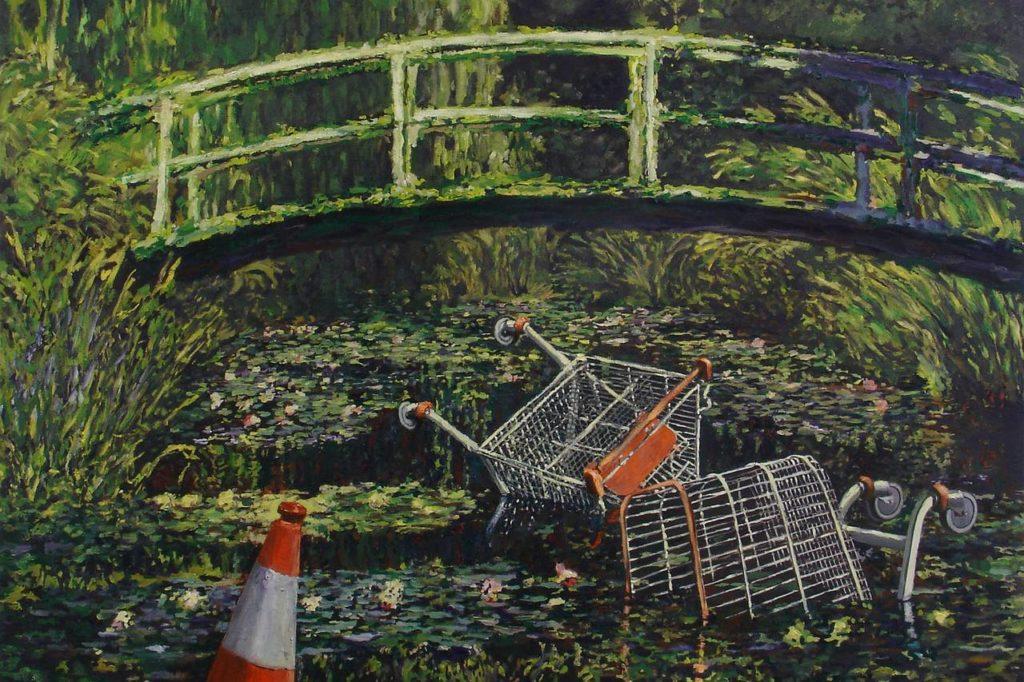 Reimagined Classics by La Pastiche
Art can often be changed for reasons beyond the expression of political views. They can also be adjusted to fit better with a person's specific tastes. Sizes can be adjusted to fit a particular wall or the colors can be changed to match existing décor. For instance, we offer Branches of an Almond Tree in Blossom, originally by Van Gogh, in a number of different hues and colors. In addition, we created Lord Frederick Leighton's Flaming June in at least two different colors at our La Pastiche art collection. Similarly, most of the pieces we carry can be customized with an alternative color scheme.
La Pastiche has also created a variety of amazing collage pieces that combine elements from more than one masterpiece and are featured in the La Pastiche gallery. They have combined the beautiful Starry Night by Vincent van Gogh with works such as his own Starry Night Over the Rhone and his Field of Poppies to produce new and complex masterpieces. The way his colors complement the Great Wave by Hiroshige will take your breath away. We will be adding more great collaboration pieces in December as well. Let that inspire you to find two pieces that you love. With the help of our great custom designers, create a unique piece perfect for your home.
Create Your Own Masterpiece
As the holidays approach, our custom designers would love to help you turn your family photos into works of art. Our artists can turn almost any digital image into a hand-painted oil painting creating a perfect gift. We can have it perfectly framed and arrive ready to hang for that special someone. Since the process of hand-painted art does take time, you will want to get those custom orders quickly. The deadline for placing a custom order to deliver by Christmas is October 5th. To get the process started, just fill out our easy custom request form.