Diego Rivera, Murals of Everyday Life
Diego Rivera (1886-1957) was considered the greatest Mexican painter of the twentieth century. His greatest achievement was bringing frescoes (mural paintings done on fresh plaster) back into the art world view – and bringing art into the public's everyday life.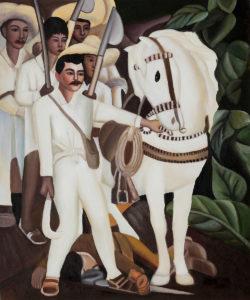 In 1907, he moved to Paris, where he studied the works of masters like Cézanne, Matisse and Gaugin. However, it was only after studying the great Renaissance works in frescoes, did Rivera find his strength. Combining a Cubist-like style with his own vibrant flair, Rivera painted his political and social views into slices of Mexican life: every day and the revolution (even though he didn't participate in the revolution himself).
Rivera had an enormous impact on American art. In 1930, he began work on his first two major commissions in America: one for the American Stock Exchange Luncheon Club and the other for the California School of Fine Arts. Then, in 1932 (at the pinnacle of the Great Depression), he visited Detroit at the invitation of Henry Ford, where he began his tribute to the American worker on the walls of the Detroit Institute of Arts. Completed in 1933, the piece depicted industrial life in the U.S., concentrating on Detroit's automobile plants.
During this time, the Museum of Modern Art commissioned Rivera to "provide one of its galleries with five portable murals." These murals were the subject of a five-week exhibition. Amazingly, these murals were in storage for 80 years, and in 2011 were re-hung at the MOMA. In November 2011, the commissioned murals were put back on exhibition.
Leah Dickerman, the curator of MOMA's department of painting and sculpture, said about the recent exhibition closing on May 14, "People think of this as a museum of Matisse and Picasso. They don't think of Rivera as a lion of the institution." Each fresco weighs 1,000 lbs., and the MOMA utilized forklifts to move the frescoes.
His 1931 masterpiece, Agrarian Leader Zapata, is one of the works on display at the Modern Museum of Art until May 14, 2012. This particular fresco measures 7′ 9 3/4″ x 6′ 2″ (238.1 x 188 cm) on reinforced cement in a galvanized-steel framework. Because of the quick-drying nature of plaster, Rivera worked on the mural in sections called giornata (Italian for "a day's work), with the MOMA identifying three giornatas in this pieces. Paying tribute to the great Mexican Revolutionary leader, Emiliano Zapata, the fresco depicts the spirit of the peasants who fought for agrarian reform.
Also on view is Flower Festival Feast of Santa Anita, another 1931 Rivera masterpiece which also was first exhibited that year in a solo show. The piece is encaustic on canvas, measuring 6′ 6 1/2″ x 64″ (199.3 x 162.5 cm). Balancing a basket of calla lilies atop her head, this woman celebrates at a Good Friday flower festival feast, in a Mexican town called Santa Anita. These calla lilies can be seen throughout many of Rivera's works, such as Portrait of Natasha, Vendedora de Alcatraces, The Flower Seller, and Nude with Calla Lilies, and are generally thought to be symbolic of his artist wife, Frida Kahlo.
The exhibition, Diego Rivera: Murals for the Museum of Modern Art, closed on May 14, 2012.