Things you may not know about Diego Rivera and Paul Klee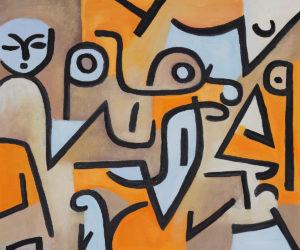 Paul Klee grew up in a family of musicians. His father, Hans Klee trained as a singer, and played the piano and the violin at Stuttgart conservator, where he met Ida Frick, Paul's mother. Ida was training to be a singer as well.
They got married in 1875 and gave birth to their oldest daughter Mathilde, and on December 18th 1879 Pail was born. Paul started school in 1886. Paul began to play the violin at the age of seven.
Paul Klee was so good playing the Violin that at the age of eleven, he became an associate member of the orchestra that gave concerts at the Berne Music Society. At the same time he started drawing, being introduced to this new visual art form by his grandmother. Unlike his musical ability, his passion for drawing was not given encouragement by his parents. Klee kept so much in his parent's mind that he did not let aside his violin lessons.
Paul Klee in his diary stated that he "would have gladly left school during the last year, but my parents' wishes prevented me from doing so. I now felt like a martyr. After I had scraped through my school-leaving examination, I began to paint in Munich." Klee's decision to leave music aside was for the idea that music had passed its peak. Modern composers left him cold.
However, he had to sustain himself financially speaking, so he still played in an orchestra. He particularly liked the great composers of the 18th and 19th century.
Did you know that Rivera tried cubism?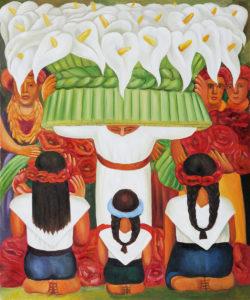 The Cubist influence reached Diego Rivera in 1912, through his neighbors in Montparnasse the Dutch painters Piet Mondrian, Conrad Kikkert and Lodewijk Schelfhout. However, it was in the next year that his transition to Cubism took place.
In the following five years Rivera made over two hundred works. His attempts, following cubist influences, reached their apogee with the oil painting Woman at a Well. His pastel color's palette is quite unusual through the earlier cubist artists. Rivera reached maturity in cubism with the painting Sailor at Breakfast, made in 1914. This work reflects better his friendship with Juan Gris, through the mixture of paint with sand and other substances, the thick application of paint and the use of a collage technique.
At his first one-man show in April 1914 at the Galerie Berthe Weil, Rivera included twenty-five cubist works, and some of them were even sold. After this success, his cubist paintings have been shown in exhibitions in Munich, Vienna, Prague, Amsterdam and Brussels. Rivera even took part in the Cubist painters debates, and the most heated discussion were held with Pablo Picasso.
Rivera met Pablo through the artist Ortiz de Zarate. One of Rivera's last cubist paintings is Motherhood: Angelina and the Child Diego. The painting betrays his preoccupation with scientific and philosophical ideas that led to a so-called "classical" technique. The painting shows his first wife, Angelina holding in her hands Rivera's son. Diego jr. fell ill weakened by cold and hunger and died at the end of 1918, at the age of two.
Rivera gave up cubist style after an incident called "the Rivera affair." In the spring of 1917, Diego had a rough exchange with the art critique Pierre Reverdy, who became the theorist of Cubism during the war years. Reverdy wrote hurtful piece about the work of Rivera, in his book "Sur le Cubism." That started a dispute when Rivera met the writer at a dinner arranged by Leonce Rosenberg. The result of this exchange of replicas was Rivera's break up with Rosenberg and Picasso, and with the Cubist style. He also lost the friendship of Braque, Gris, Leger, Lipchitz and Severini. The painting Zapatista Landscape, bought by Rosenberg, had been locked away until the 1930s.