The Story of Father's Day
Father's Day was created in the early 20th century in celebration of fathers and the roles they play within society and family – and as a complement to the already-established Mother's Day. Interestingly enough, it wasn't made "official" until then-President Richard M. Nixon signed it into law in 1972.
It began with Sonora Smart Dodd. Inspired upon hearing a Mother's Day sermon in 1909, she wanted to create something that honored her own father, a Civil War veteran who had raised six children as a single parent after his wife (her mother) had passed away in childbirth years earlier. After a year of campaigning and petitioning for this holiday, the first Father's Day was celebrated in Spokane, Washington on June 19, 1910.  From there, it would take five presidents and over sixty years for the United States to make Father's Day a permanent national holiday, on the third Sunday in June, when Nixon made it official in 1972.  Sonora Dodd was able to see her dream made into a reality, living another six years (to 1978) until the ripe old age of 96!
Like Mother's Day, many other countries celebrate Father's Day on the third Sunday in June, while others hold it (again, like Mother's Day) at various times throughout the year. Among the other countries which celebrate along with the United States including Canada, France, Greece, Hong Kong, Hungary, Ireland, Japan, Mexico, South Africa, the United Kingdom, and 62 others, for a total number of 73 countries celebrating fathers on one day.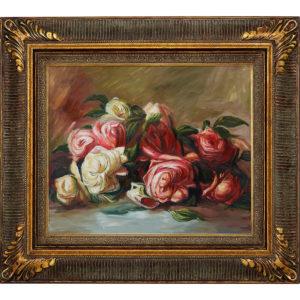 Roses (not the carnations of Mother's Day) are the flower for Father's Day:  red roses for fathers that live, white roses for fathers who have died.
Neckties, power tools, garden equipment, automotive gadgets, books, sports equipment, tech gadgets, electronics, and grilling-related accessories top the list of the most popular gifts given to fathers. For more elegant and unusual gifts, art tops the list. Looking for art Dad will love?  Check out Gustav Klimt's The Golden Knight, Claude Monet's Boat at Low Tide, FeCamp 1881, Cezanne's Card Players with Pipes,  Picasso's The Old Guitarist, and William Bradford's Panther Among Icebergs in Melville Bay. In addition, take the time and view oerstockArt.com's Father's Day Top Five Oil Paintings.
But the most popular Father's Day gift of all?  A greeting card! Father's Day is the fourth-largest card-giving holiday, behind Mother's Day (third largest), Valentine's Day (second), and Christmas! More than one-third of Father's Day cards are humorous.
And, for your reading pleasure, some favorite – and familiar – father sayings sure to bring a smile to your face (even if it didn't at the time!):
Don't ask me, ask your mother.
This is your last warning.
Stop crying or I'll give you something to cry about!
Who said life was supposed to be fair?
What do you think I am, a bank?
Money does not grow on trees!
I'll tell you why. Because I said so. That's why.
I'm not sleeping. I'm watching TV with my eyes closed.
Happy Father's Day!