Love and Pain, the Vampire's Kiss
Edvard Munch is known as a quintessential modern artist with The Scream as his magnum opus. While quiet and reclusive, he was always a sickly child too, and dealt with many traumas. Throughout his life we see Munch use art as a therapy to express his emotions and understand his inner self. One such project of self-reflection is Munch's Frieze of Life series meant to visually capture the stages of life, love and jealousy, anxiety, infidelity, and the separation in life and death. The painting known today as Vampire was first shown in Berlin in 1893 as part of his love theme under its artist-given title, Love and Pain.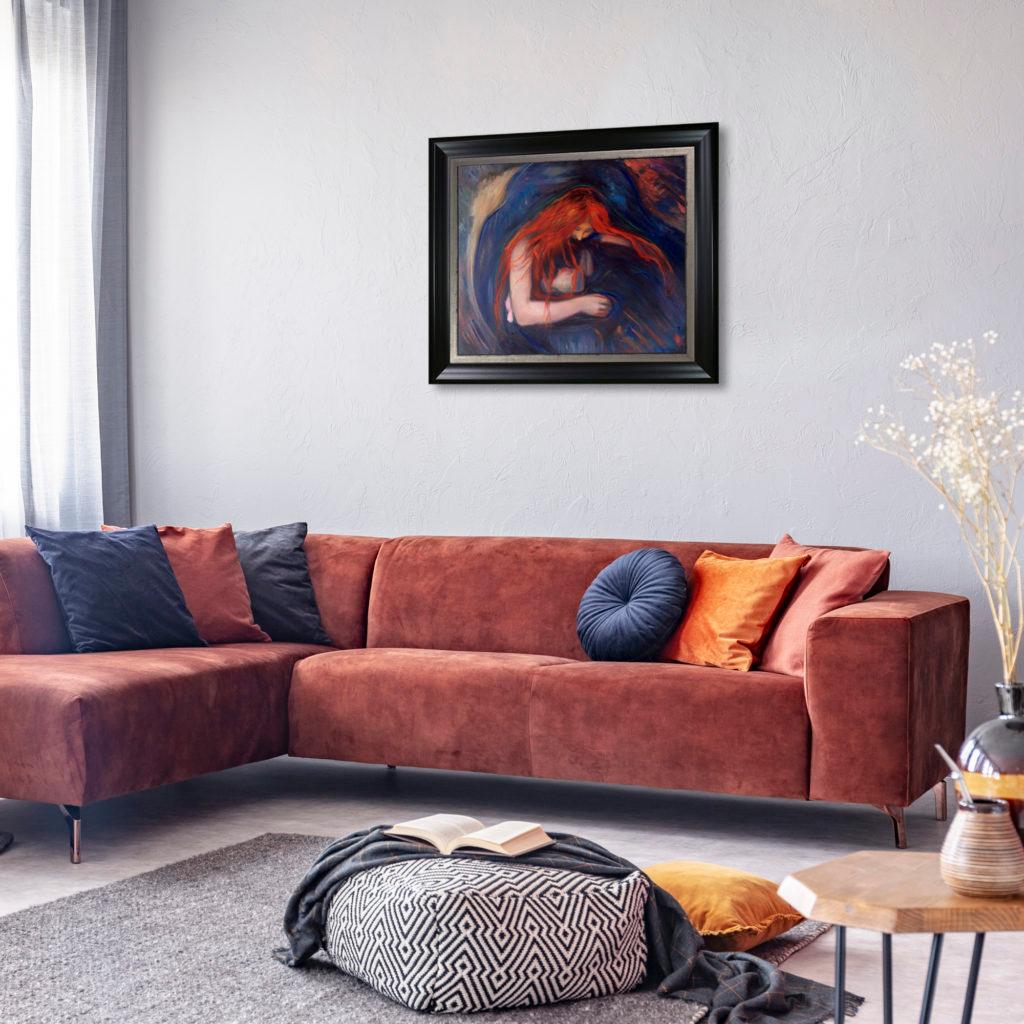 Analysis
The beauty of this piece not only comes from the artist's palette and ability but also from its open-ended messaging. Viewers of the time saw this work as dark and macabre. Images of the femme fatal were popular. Viewers also thought the woman-dominated composition was scandalous. Critic and friend of Munch, Stanislow Przybyszewski, described the painting saying, "A broken man, and on his beck a biting vampire's face…"(S. Przybyszeski, Psychic Naturalism, 1894, p. 174). Munch disagreed with this analysis, stating it was only a woman kissing a man on the neck. Despite the artists' intentions, Vampire stuck and Munch even titled future versions of this motif after the blood-sucking creature.
For the artist, Love and Pain was a meditation on, you guessed it, love. The artist's tumultuous history with relationships is the supposed inspiration for this piece. He wrote in a journal about his emotional yearning to, "rest against a woman — against her breast — for someone to stroke his hair — and then to rest, just rest and feel the warmth of her body — And she would whisper to him, kiss him softly on the hair" (A. Eggum, Edvard Munch, The Frieze of Life from Painting to Graphic Art, Oslo, 2000, p. 178.) The woman's brilliant red hair enhances the embrace of the woman. It adds warmth to the cobalt blues in the man's coat. These emotions of love and despair radiate around the figures like an aura, a classic Munch feature.