Midnight in Paris – Meet the Great Artists of Paris in the Roaring 20s
It has been a while since I have been so drawn to a movie as I was to the recent creation of Woody Allen, Midnight in Paris. This time the story and the coming-to-life of the most influential poets, painters, and thinkers of the roaring 20′s in Paris are simply amazing!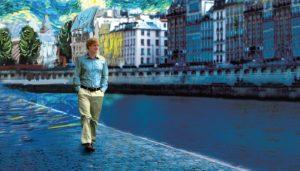 In the movie, disenchantment with the present leads Gil, a naive but endearing American played by Owen Wilson, to return to the golden age of the 1920s. One night, having taken leave of the fiancée who doesn't understand him, he is wandering the streets of Paris when a clock rings out the chimes of midnight. A vintage black car pulls up, its doors swing open and its passengers invite him to a party. After a while it dawns on Gil that he has been transported back in time to a soiree where he finds himself in the enjoyably loquacious company of Gertrude Stein, Ernest Hemingway, Pablo Picasso and Salvador Dalí.
I have lost myself in the feelings of this particular movie so much that I was genuinely upset that I cannot be there – up there on the screen! Dancing, drinking absinth,e and getting the inside scoop on a Picasso portrait!
Paris in the Twenties. Has there ever been, before or after, such an incredible concentration of talents in one space and time? Specifically the painters of the era with Picasso and Dali leading the way along with Henri Matisse, George Brack, Juan Miro, Franz Marc, and Amedeo Modigliani who are all mentioned and take part in the film.
The movie continues as the main character Gil meets Picasso's mistress Adriana. Together, they have a romantic get-away back to the era of the Belle Epoque meeting Edgar Degas, Toulouse Lautrec, Paul Gauguin and Edward Manet who all believed that the Renaissance was the greatest period. Everyone, it seems, clings to the past. It turns out the grass might not be greener on any side.
If I had a chance to meet great painters like Gil's meeting with Dali on a glass of table wine or his encounter with Gauguin at the Belle Epoque I would have liked to:
1. Share a cigarette with Frida Kahlo
2. Prepare a dinner for Georgia O'Keeffe
3. Dine with Pablo Picasso and find out who was his most beloved wife
4. Join Salvador Dali for coffee in Madrid
5. See New York through the eyes of Edward Hopper
6. Be there at Rockefeller Center in the unveiling of the Diego Rivera giant mural in the '20s
7. Get seriously drunk with Vincent van Gogh
8. See Jackson Pollack at work in his early studio; maybe even just paint drop his unfinished work.
This is my list – what would yours look like?