Munch 'The Scream' Breaks Auction Record with $119.9 Million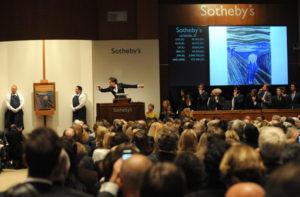 It took 12 nail-biting minutes and five eager bidders for Edvard Munch's famed 1895 pastel of "The Scream" to sell for $119.9 million, becoming the world's most expensive work of art ever to sell at auction.
Bidders could be heard speaking Chinese and English (and, some said, Norwegian), but the mystery winner made the winning bid over the phone.
Gasps could be heard as the bidding climbed higher and higher, until there was a pause at $99 million, prompting Tobias Meyer, the evening's auctioneer, to smile and say, "I have all the time in the world." When $100 million was bid, the audience began to applaud.
The price eclipsed the previous record, made two years ago at Christie's in New York when Picasso's "Nude, Green Leaves and Bust" brought $106.5 million.
There were other notable pieces in the evening sale at Sotheby's, but it was the record price for "The Scream" that captured everyone's imagination. As soon as the hammer fell, rumors began circulating about who the buyer could be. Among the names floated were the financier Leonard Blavatnik, the Microsoft tycoon Paul Allen and members of the Qatari royal family.
While some were surprised at the price, one Munch enthusiast was not: "It's nice to see the centrality of Norway in the mainstream of western culture," said Ivor Braka, a London dealer. "The scream is more than a painting, it's a symbol of psychology as it anticipates the 20th-century traumas of mankind."
Don't have $120 Million laying around? Get a hand painted reproduction of the Scream.