The Life and Works of Paul Klee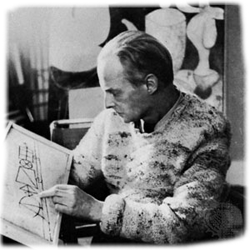 Swiss painter and etcher, who was one of the most original masters of the modern art era, belonging to no specific art movement, Paul Klee created works known for their fantastic dream like images, with wit and imagination. He is considered by many to be one of the most original masters of the modern art era.
Paul Klee was born in a town near Bern, Switzerland, in 1879. In 1898 the family moved to Munich, then an important center for avant-garde art.
Paul Klee, who is at first influenced by Impressionism, becomes exposed to the new emerging art genera. In 1912 he joins the famous Blue Rider group headed by Wassily Kandinsky. This group of revolutionary artists contributes much to the development of the abstract art movement. After World War I he becomes a teacher at the famous Bauhaus school. However, by the time the Nazis seize power he is dismissed by the new government and his art is deemed "degenerate."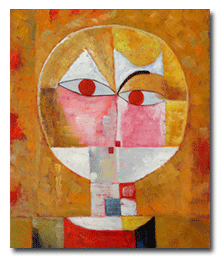 In 1933, Klee moves to Switzerland. There he comes down with the crippling collagen disease scleroderma, which forced him to develop a simpler style and eventually killed him.
Klee often incorporated letters and numerals into his paintings, but he also produced series of works that explore mosaic and other effects, such as his Farbatafel paintings series.
A trip to North Africa in 1914 stimulated Klee strongly toward using color and marked the beginning of his fully mature style, in which he declared himself possessed by color. His paintings and watercolors for the next 20 years showed a mastery of delicate, dreamlike color harmonies, which he usually used to create flat, semi-abstract compositions or even effects resembling mosaic, as in Pastoral.
Many of Paul Klee's works are elaborated line drawings with subject matter that grew out of fantasy or dream imagery; he described his technique in these drawings as "taking a line for a walk." Senecio, for instance, with its fluid, wiry, birdlike motifs, is a composition of interconnected lines and circular shapes, with an evocative effect that is much greater than its spare means.
After 1935, afflicted by a progressive skin and muscular disease, Klee adopted a broad, flat style characterized by thick, crayon-like lines and large areas of subdued color. His subject matter during this period grew increasingly brooding and gloomy, as in the nightmarish Death and Fire.
Klee died in Switzerland, on June 29, 1940. His work influenced all later 20th-century surrealist and nonobjective artists and was a prime source for the budding abstract expressionist movement.