Picasso predicted to take Sotheby's by Storm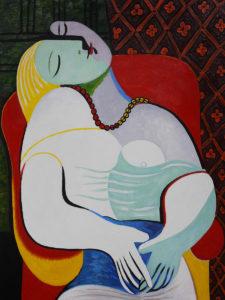 Painted in 1934, Le Lecture of Marie-Thérèse Walter has been announced as the "star lot" of a Sotheby's auction in London next month.  The painting is a portrait by Pablo Picasso of his mistress and muse, Marie-Thérèse Walter. The portraits done by Picasso of Marie-Thérèse Walter from that same year have become famous in 2006, when Las Vegas Casino owner Steve Wynn put his elbow through the Dream oil painting, a portrait of the same Marie-Thérèse, creating a six inch tear just as he was about to sell the painting for $139 million to an anonymous buyer from Wall Street's financial district. This would have made tycoon Steven Wynn the owner of the most expensive painting, ever.
Yet Wynn took the tear as a sign to not sell the painting, which was repaired and a new value was quoted for the painting — $85 million. Currently, Le Lecture of Marie-Thérèse Walter is estimated to go for $12-17 million. Helen Newman, Shotheby's chair of impressionist and modern art, remarked that the painting "will excite a lot of interest" inside of its market.
Picasso's mistress and muse was a secret affair depicted in the background of many of his past works. Marie-Thérèse Walter once stated:
"He simply took me by the arm and said: "I am Picasso! You and I are going to do great things together."
Picasso met Walter in 1927 as she was stepping off a train. The girl was only seventeen at the time, and the artist was aged forty-five years. She was kept to the background of his works, until the 1934 La Lecture in which he depicts her intimately asleep with a book resting in her lap. Many scholars suggest this is a sexual symbol.
Six other Picasso works will be featured in the auction, which will also include works by master artists Renoir, Manet, Signac, and Monet. If you can't make it London next month, be sure to get your own hand painted reproduction of The Dream at overstockArt.com.