Suzanne Bloch and Adele Bloch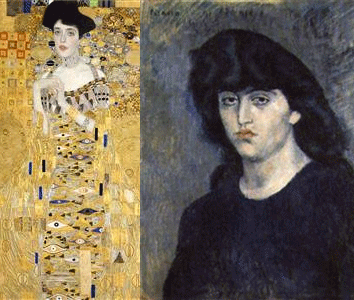 Last Thursday, on a chilly early morning heist in Sao Paolo, Brazil a gang of highly skilled (considered professionals) art thieves broke into the Sao Paolo Museum of Art and stole two paintings.
One of the paintings is a 1904 Blue Period portrait by Pablo Picasso called "Portrait of Suzanne Bloch." The portrait is valued at around $50 Million.
What I found fascinating in this story is not the heist itself, but the painting that was taken…
Just a year ago Ronald S. Lauder the multi-billionaire, chairman of Estee Lauder and the founder of the Neue Galerie Museum in New York City bought a fabulous 1907 Gustav Klimt painting the "Portrait of Adele Bloch-Bauer." The price tag on the painting broke every imaginable record at the time reaching $137 Million!
Examining the two paintings we discover that not only do Suzanne and Adele share the same surname, and where done at about the same time period, but the striking resemblance is uncanning!!!
Gustav Klimt's Adele has been in the news for the last three years, but who was Suzanne? Is there some sort of connection between Picasso's Blue Period Suzanne, and Klimt's Adele of the Viennese elite?
So, is there a connection between the two women? What is it about the Bloch's?
If there is a connection between the art pieces, this should raise the value of Suzanne and would indicate that the thieves were sent to do the job by some wealthy art lover for his own collection, someone who is knowledgeable enough about the art world to make the connection…