Sleepless in Picasso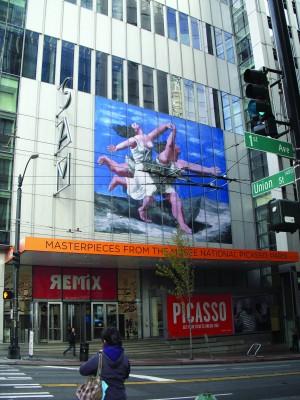 Pablo Picasso the great, the Michelangelo of the 20th century, the raging bull of modern art is exhibiting in Seattle.
The Seattle Art Museum, is host to a comprehensive exhibit of the modern master, artist Pablo Picasso. These are Picasso's private stash of art pieces that he did not intend to reveal or sell. In today's art market, the value of this artwork is nearly incalculable. And you need to take yourself, family or friends to see this show, because, unless you travel to Paris any time soon, you won't get another chance.
Picasso's enormous collection was "given," in lieu of inheritance taxes, to the French government, who quickly outfitted a large, handsome but derelict hotel in Paris with the enormous collection. Right now, the museum is closed for two years of renovation. Vive l'opportunite!
With all the intrigue of a modern espionage novel, the curators of the Seattle Art Museum where able to somehow finagle Paris into loaning its collection to Seattle through Jan. 17.
Picasso burst on the Paris scene like a burst of talent, the art world had not seen before. To say that Picasso was a precocious talent at age 19 is an understatement. He could already paint and draw like a master.
And paint he did. The collection is an undeniable display of all the glamor, brilliance and command of the many media that Picasso thrust upon an evolving 20th century art world, a world already reeling from the impact of Impressionism and Post Impressionism and the first extraordinary artworks by modern painters from Claude Monet to Vincent Van Gogh.
Picasso fathered the next giant steps that led to the modern-day transformation from painting as representation, to, well … be my guest in defining this potpourri of expression.
Most of his paintings stun a vibrant imagination. Two Women Running on the Beach, The Village Dance, Cat Catching a Bird, sketches from Guernica, playful and provocative sculpture – all this work is displayed with deep passion, eroticism, and of course, all the creativity of an artist who might be defined as the raging bull of modern art.
At the beginning of the exhibit, one is confronted by a life-size photograph, a self-portrait of the artist as a young man, around age 24, standing resolutely with two deep-set black eyes blazing, almost challenging, muscles hard and taut, and with a pose that suggests an ego beyond Picasso's cool and calculating confidence, of which he is generally accused of exhibiting by the boatload. He seems to suggest in a prescient sort way that, yes, he is going to become an artist of unsurpassed depth and imagination. His black and white drawings suggest a master on terms with Rembrandt or Picasso's fellow Spaniard, Goya. Certainly, Picasso does not surpass either. But to be held on a par with such genius and talent speaks volumes, and Picasso did speak volumes. This quotation is a favorite: "God is really only another artist. He invented the giraffe, the elephant and the cat. He has no real style. He just goes on creating other things."
His bigger than life nature, like his artwork, must have remained irresistible, just as this show is irresistible. In the sketches and studies of Guernica (the original remains in Madrid), rage and indignity confront us with all the power of a full-force Blitzkrieg.
In a strange way, it doesn't matter if you like abstract painting or not. Picasso is the giant of expressionism and the creator of many emerging art styles. He was always ahead of the pack, bursting from the starting gate like Secretariat or Sea Biscuit. It can hardly be denied. You may dismiss his style, but must not reject the talent.