Color Blocking Fashion and Mark Rothko
The color-blocking craze dominated runways last year, spilling over into 2012 and taking center stage in fashion, furniture, and flower designs in the Spring. Color Blacking is virtually everywhere this Summer! Bright colors bordering on neon are all the rage in fashion and in furniture, with softer shades of color blocks dominating weddings, as well as other home accents and décor.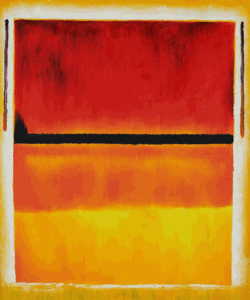 Why the focus?  For some in the fashion and furniture world, it harkens back to the 50s and 60s, with a decidedly "mod" focus.  But even then, like so many fashion trends, designers drew inspiration from art.  For example, in 1965, French fashion designer Yves Saint Laurent was influenced by artist Piet Mondrian's color block paintings. Mondrian's Composition With Red, Blue, and Yellow was the inspiration for Laurent's famously unique wool jersey color block dress.
Dresses, handbags, shoes, jackets are all getting the color block treatment, along with a DIY component. Because of the dominance of tangerine as the color of the year, blocking uses shades of orange as the driving base, stacked with neutrals and creams primarily, but also along with other "hot" shades (pinks and reds).
For home furnishings, color blocking is rampant in shelving and bookcases, with clocks a bold blocking statement for the walls.
But no artist does color blocking as painter Mark Rothko. His vibrant shades of oranges, reds, and yellows are some of the most recognized in the world of art. His work was a key contribution to the abstract expressionist style in America during the late 1940s and early 1950s.  Although instantly recognizable, Rothko's paintings are not chunky blocks of color. His works contain subtle gradations and hues, seamlessly transitioning from one hue into the next.  With blurry edges, many of these paintings are reminiscent of torn pages, softly tattered around the edges with layers of rainbows.
Perhaps the color blocking craze has also influenced art lovers.  Last month at Christie's contemporary art evening sale/auction, Mark Rothko's  "Orange, Red, Yellow"  work from 1961 sold for a record-breaking $87 million dollars.  The work, measuring nearly 8 feet by 7 feet, beat the previous record for a Rothko — set at Sotheby's in 2007 by philanthropist David Rockefeller's "White Center (Yellow, Pink, and Lavender on Rose)," from 1950 — by more than $15 million. Christie's acquired a dearth of contemporary art from the estate of David Pincus, the Philadelphia clothing manufacturer, who died in December, and his wife, Geraldine.
Currently, works by Mark Rothko hang can be seen at the National Gallery of Art in Washington DC, at the MOMA in New York City, at the Whitney in New York City, the Whatever color blocks desired for the home, Rothko is an inspiration, from his dominant Oranges, Reds, and Yellows, to his blocks of cooler hues of Blues, Blacks, and Rusts. Guggenheim in New York City with his Untitled (Violet, Black, Orange, Yellow on White and Red) 1949, the Menil Collection in Houston Texas, the MOCA (Museum of Contemporary Art)  in Los Angeles, and the Rothko Chapel (built by the Menils) in Houston. The Rothko Chapel is a non-denominational chapel that also serves as a major work of modern art. The walls are fourteen black-hued paintings by Rothko – and since September 2000, is on the National Register of Historic Places.