Corporate Art Collections Revealed in New Book and Show
In 1472, the Monte dei Paschi bank in Siena established what is thought to be the first corporate art collection. Corporations have been collecting and commissioning art for centuries. Such collections if gathered into one show would rival the displays of art museums. So began the inspiration for such a show and book. Peter Harris and Shirley Reiff Howarth co-authored and curated A Celebration of Corporate Art Programmes Worldwide out of fascination with the history of corporation collection.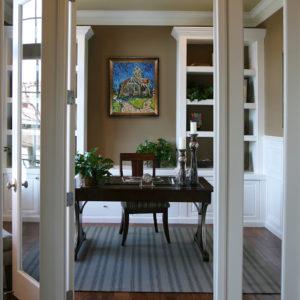 The book was released early last week and is the focus of a new show running at the auction house Bonhams in London. The show will include works lent by companies including HSBC France, Statoil in Norway, EON in Germany, and the law firm Clifford Chance in the UK . Among the artists on display are Tracey Emin, Otto Dix, Cornelia Parker, and Richard Hamilton. Proceeds from the show go to the Wapping Arts Trust, which is "committed to explore the relation among different art forms; it develops projects related to various disciplines and aims at increasing the involvement in the arts at a national and international level."
According to The Guardian, "Harris believes an art collection says something about a company. 'It's for image. It is to tell the world and their employees things about them. If you go into any office before the staff arrives these days, they all look roughly the same: rows and rows of computers – and you think, what is this company all about? The answer is, it's on the walls." Harris notes if such a show as seen in the book were curated, it would contain much of the finest art of the world.
In Tokyo, on the 42nd level of a Shinjuku skyscraper, visitors would observe such astounding paintings, including a Gauguin, a Cézanne and one of Van Gogh's Sunflowers. Ninety minutes away in Hakone, underground you would see works by Monet, Renoir, Chagall and Picasso.
Whether it's a traditional office or modern office, an art collection can give personality to a company and its portrayal to the public. It anthropomorphizes the brand identity of a company into "something" an employee or customer can relate to and is an interesting aspect of contemporary art and the future of art in general as an integral part of our society and economy.
What do you think of the idea of corporations as art patrons? Can large, Fortune 500 companies gain a competitive edge by investing in art and influencing the art world and thus creating a unique brand culture and identity?