Edward Hopper: Life in Isolation
Given the current events, some people might be feeling isolated from society. Edward Hopper was an American modern painter who often captured that feeling of seclusion in his paintings. Many of his paintings featured no people at all, but even those that did include people maintained a feeling of emptiness. Hopper tried to depict the way American life can often feel lonely, even when people are not alone. Here are some of our choices for paintings that you might relate to while practicing social distancing by a great American artist.
Simple scenes from American life take on added significance in the paintings of Edward Hopper, such as this classic work. Automat features a woman sitting alone in an automat, with the dark window behind her revealing the nighttime setting. Modeled after his wife, Jo, the woman sits quietly and somewhat sadly, but the circumstances surrounding her mood and location are mysterious. This is a quaint and familiar scene, even though it clearly takes place in another time. Hopper's incredible technique creates a realistic yet dreamlike setting reminding viewers of the many mysteries we encounter each day when we pass by strangers in familiar surroundings.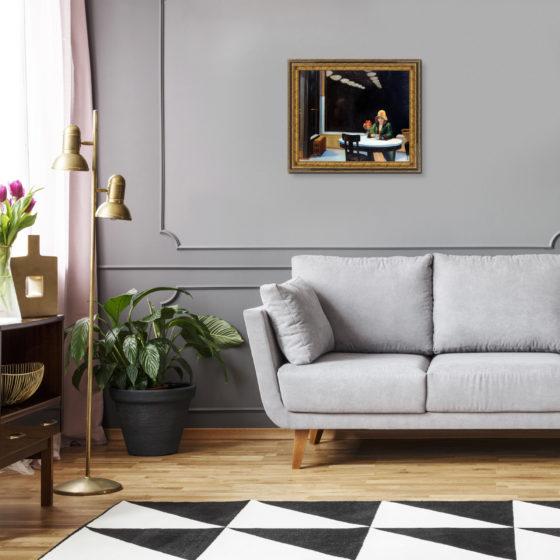 Four Lane Road is a vibrant oil painting showcasing Hopper's brilliant use of color, light and brush strokes. First created in 1956 this painting pays close attention to the effects of light on a still and empty town. This treatment has become well known in Hopper's work. In this painting you see a couple that are both close in proximity and appear distant in intimacy.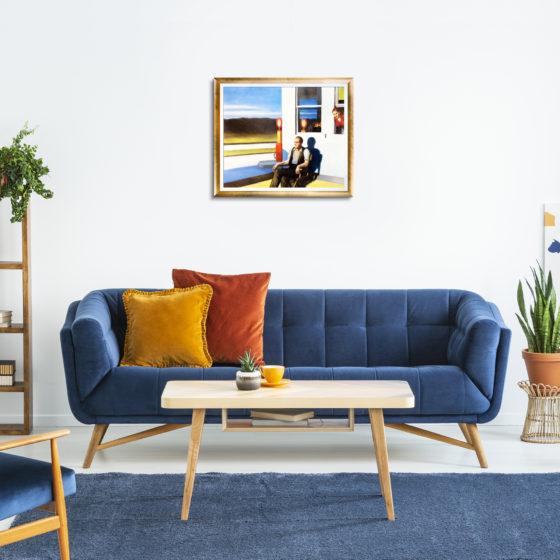 Painted during the later years of Edward Hopper's career, Office in a Small City offers the artist's judgment on post-World War II American business culture. Hopper brings his theme of isolation to this mid-20th-century scene that could take place in just about any U.S. city. A single man sits in his office, daydreaming in dark shadow while he looks out at the bright landscape of buildings. His profession unknown, he rests inside a concrete wall completely detached from his surroundings.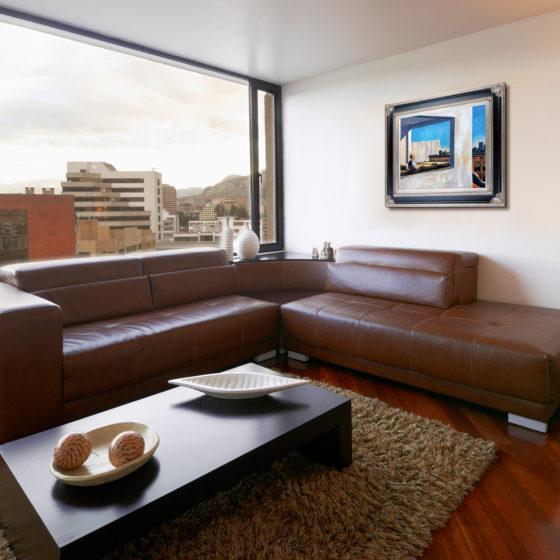 Morning Sun, originally created in 1952, is a relaxing painting that uses soft colors to give the impression of a calm setting. Like his other works, the scene created is tense, filled with emptiness and silence. This is a very strong and beautiful piece, with a lone subject enjoying the silent sunrise. The lone woman, waking up to watch the quiet sunrise gives a feeling of serenity and peace.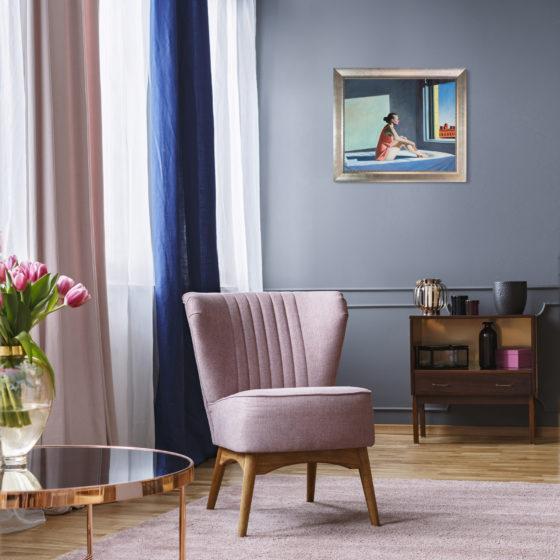 Nighthawks by Edward Hopper is a beautiful oil painting with exceptional use of contrast between the darkness outside and the light inside the diner. The original was created in 1942 and is one of Hoppers most famous works. This oil painting is filled with silence; like Hopper's other works, the scene created is still and tense. The characters in this scene seem to be distancing themselves from each other, even in a small space. They appear unaware of each other, as they sit quietly in the sleeping city.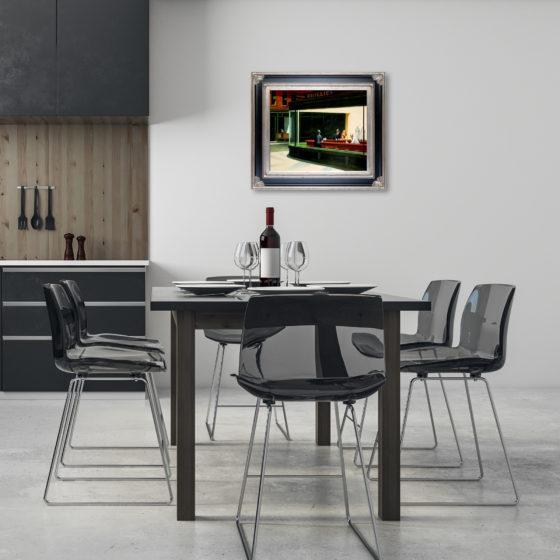 Portrait of Orleans, originally created in 1950, is an elegant landscape in an urban setting. This desolate scene of an empty town is very indicative of Hopper's signature style. It reflects how many cities and towns appear now, with the same sense of loneliness. The use of light to show the setting as being joyful, even with the lack of a human element shows us how serene isolation can be.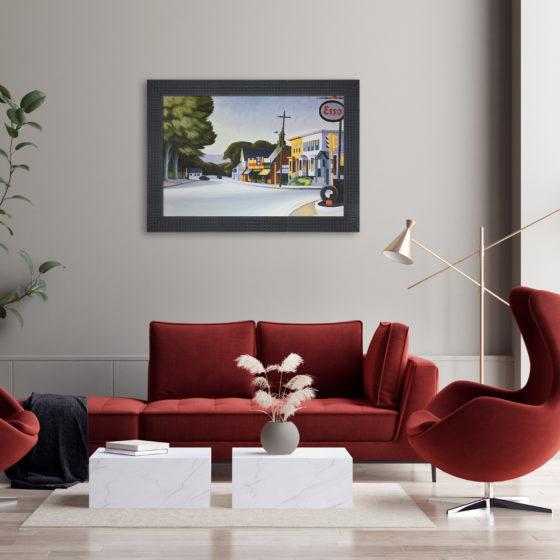 These are just a sampling of all the great works of art produced by Edward Hopper. Through their depiction of modern urban life in towns big and small, all of Edward Hopper's paintings display important facets of American culture.
In addition many of Hopper's paintings, encapsulate urban loneliness, the feeling of being unable to connect despite living among many others. In the current COVID-19 pandemic, Edward Hopper's art has many of us identifying with it. We're all lonely now. We're all cut off from each other, trapped inside the walls of our own domestic space.
During these trying times, it's good to have art and culture that reminds us that today the human race is stronger than ever, and while social distancing and isolation is hard, we will overcome these uncertain times.
Feel free to browse through our Edward Hopper gallery and share your thoughts on any other Hopper art you love. Looking forward to see some cool MEMEs going around in the comments…