Ever Dreamt of Starring in a Famous Art Masterpiece?
overstockArt.com, launched today it's revolutionary new custom art service called "Star in a Masterpiece" where customers can choose from various masterpieces and overstockArt.com will design and paint a work of art especially for them by "injecting" a favorite photo into the art.
This new service was born out of the growing demand by customers to "remove" mundane backgrounds of photos they have and instead place an art scene of their choice as the backdrop.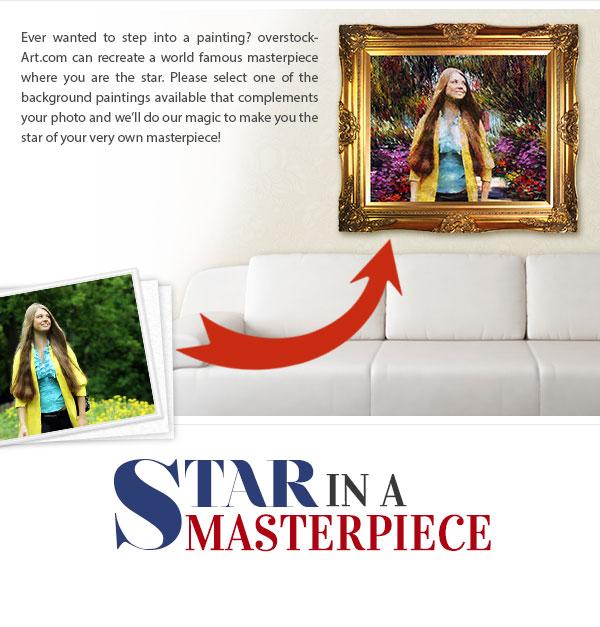 "The people who thought of this new service are our customers," said David Sasson, President and CEO of overstockArt.com. "We've had several requests from customers to have their loved ones injected into an oil painting, the end result was so magnificent we decided to bundle it up and make a custom service we can offer all of our site visitors."
The process itself is simple. Customers simply need to follow the three steps described on the website. First, the customer chooses a favorite background. Customers can choose from a variety of remarkable masterpieces to "star" in. The next step is for the customer to choose the size of the art. Finally the third step is simply for a customer to upload the desired image to be inserted into the masterpiece. overstockArt.com will than take the images and create a mockup of the art. Once the customer approves the design, the mockup will be sent to the studio for an artist to create the oil painting.
As the painting is being created an overstockArt.com representative will provide the customer with an image of their new art to approve or reject.
Once the customer is completely satisfied with their new art, the hand painted canvas will be framed and delivered to their door.
"We're excited about this new service coming out just before the holidays," said Sasson, "We are constantly trying to offer new hand painted products for our customers, and 'Star in a Masterpiece' is the perfect example of us listening to our customer's wants and needs."
To learn more about the new "Star in a Masterpiece" service go to:
http://www.overstockart.com/starinart.html