Hold a World of Art in the Palm of Your Hands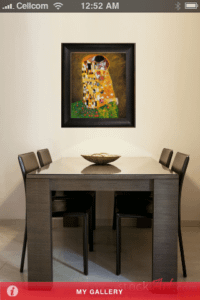 overstockArt.com released today a major update to its overstockArt.com Oil Paintings iPhone application, adding a customizable gallery option. The application, first released in May, already gives users the unique opportunity to decorate their walls with its interactive "View in a Room" feature customized for mobile devices. The update allows users to save their favorite art to a personal art gallery and create masterpieces from their favorite photos.
overstockArt.com Oil Paintings is a free iPhone application. The update is now available to current users, and new users can download the app from the App Store. iOS 3.1.3 or later required.
The app is an extension of the gallery's innovative "View Art in Room" web application. "Our application provides a fresh new way to access overstockArt.com's vast collection of oil paintings," said David Sasson, CEO of overstockArt.com. "The new addition brings the world of art right into the palm of your hand."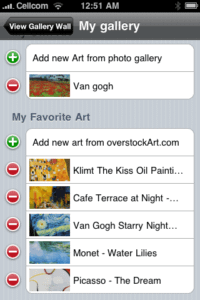 The full features of the overstockArt.com Oil Paintings mobile application allow users to:
Create a personal gallery with the new "My Art Gallery" feature. Select fine art from overstockArt.com's collection or import images to create a personal gallery.
Turn photos into hand painted art masterpieces with the retailer's "Turn Photos into Art" service, now available to use directly on the application.
Using the built-in camera, users can take a snapshot of their space and visualize oil paintings hanging on their own wall-.
Browse overstockArt.com's robust collection of art and learn more about the fine art and artists featured on the site.
Share images and personal galleries via e-mail, Facebook, text or Twitter.
"We were driven to ramp up our mobile strategy when site analytics showed that 15 percent of our overall traffic is from mobile users, specifically iPhone users," Sasson stated. "Our application not only gives people a fresh new way to browse through our collection, but it gives mobile users an advantage by allowing them to see the art in their home right on their phone and makes it easy for them to access their favorite paintings with the customizable gallery feature."
The overstockArt.com Oil Paintings application is available now as a free download from the App Store.