Looking for Klimt – Theft Case Reopened 17 Years Later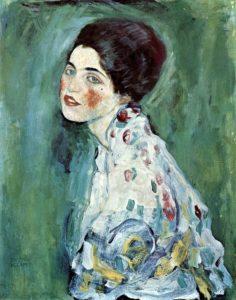 On January 19th, 1997, the "Portrait of a Woman" – a highly recognizable piece by Gustav Klimt – disappeared under mysterious circumstances from Galleria D'Arte Ricci Oddi, in Italy. Apparently the theft coincided with renovation works, which required some pieces to be temporarily removed from the gallery. Until this day investigators are unable to determine if there was one individual or a group performing the theft, neither they can confirm if it has occurred through the main entrance or a nearby skylight. All that was left was the empty frame with a partial fingerprint.
The "Portrait of a Lady " is part of a group of female portraits made ​​by Klimt in his last years (1916-1918) and it is thought to be too recognizable to sell on, leading to speculations that it had been stolen to order. This priceless canvas is counted among the works currently most sought by Italian police.
This was not the only time that a Klimt work has been stolen. Another famous case was the recovery of five paintings taken by the Gestapo during the Second World War and its legal claim by the holocaust survivor Maria Altmann, so that the works would return to her family.
Paintings by Klimt are among the most expensive in the world. His popularity and value are born from great talent and great controversy. Being one of the most loved and hated figures of his time, he has been criticized for its unsettling sensuality and deviating symbolism. However, his sumptuous work came to be an icon of the Art Nouveau style of the late 19th and early 20th century.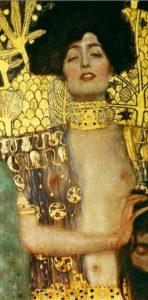 Klimt was born in Baumgarten – Austria (1862) to a mother who wished to become a musical performer and a Bohemian father who was a gold engraver. This is one of many influences evident in his artwork, especially in his 'golden phase', along with the Byzantine art that Klimt had seen on his trips to Italy. He admired artists as Munch, Redon, Khnopff and Gauguin, and he experimented poses, gestures and expressions, refining them into a perfect capture of emotional intensity. Two of our favorite examples are The Kiss representing the attraction between sexes; and Judith, where he turns a biblical theme into a magnetic sensuality, depicting Judith as a femme fatale stroking the hair of Holofernes.
Before he affirmed his artistic freedom, Klimt worked as a decorative painter of interiors, creating impressive ceiling paintings and murals such as the stunning staging of Romeo and Juliet's last scene or the imperial staircases in Burgtheater (Vienna). Klimt offered his talent to the world through paintings, murals, sketches and more importantly, through the Vienna Secession: "To every age its art. To art its freedom."
His life and thought are of immeasurable value to the world, what puts his work among the most desired – as much by art lovers as by art thieves – but there won't be a settlement in its disappearance. The case that was once closed from lack of evidence has now new hopes thanks to the remarkable progress reached in forensic science. New technology will allow the Piacenza operational department to analyze the residual organic extracts from the fingerprint, as well as particles deposited by breath, to generate a genetic profile to be matched with the suspects. That, along with traces left on the scene, gives this cold case a good chance to be solved so that the young lady with rouged cheeks can be finally found and returned to the world.