The True Story of the Monuments Men
"The Monuments Men" is the title of the new film directed by George Clooney. A humorous, powerful and engaging film based on Robert M. Edsel's book 'The Monuments Men: Allied Heroes, Nazi Thieves and the Greatest Treasure Hunt in History'. Starring Matt Damon, Bill Murray and other heavy weight actors as a platoon of art specialists tasked to get as close as possible to the German front-line during World War II to find and retrieve stolen pieces of art, worth billions of dollars, before their destruction by the Nazis.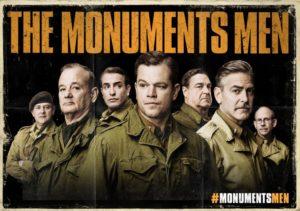 As an art lover, Hitler spent some time after his father's death being inspired by the city of Linz, dreaming about becoming an artist – along with his best friend August Kubizek, who wanted to be a great musician. The failure on his exams to attend the Vienna Academy of Fine Arts – two years in a row – burned his dream to the ground, but not his obsession.
During World War II, he led a campaign to loot and plunder art from Jews and the occupied countries to build a Third Reich Art Museum in Austria, which would remain in glory after his death. Many of the Nazi Party leaders including Hermann Göring and Adolf Hitler himself, planned to keep much of the stolen art for their private collections. Eventually, as Hitler was falling down, he ordered that if he was killed or Germany was about to lose the war, the stolen art should be destroyed along with factories, bridges and communication lines.
In the film, the Monuments Men are portrayed as an unlikely group of 7. However, in the real story this platoon grew to around 350 men and women from 13 nations who fought to recover pieces such Michelangelo's "Madonna of Bruges", Jan van Eyck's "Ghent Altarpiece" or Da Vinci's "Lady with Armine". The chase continued after the war with efforts to retrieve many works of art back to their rightful owners.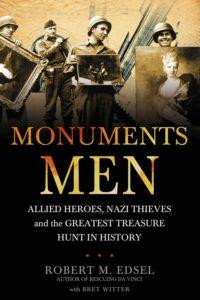 The MFAA (Monuments, Fine Arts, and Archives) recovered around five million items and returned them to their countries of origin, but priceless pieces as Sandro Botticelli's "Portrait of a Man", Claude Monet's "Manet painting in Monet's Garden" or Van Gogh's "Vincent on his way to work" have never been found to this day. We can only hope that these masterpieces are not gone forever and will be revealed one day.
A recent breakthrough in 2011, when Bavarian tax authorities found paintings estimated on $1.35 billion from an apartment in Munich gives hope that the missing artifacts will one day be found.
Throughout History, Man has been inspired by a power beyond physical realm and expresses it through art. Without this universe of emotions, visions and individuality the world's greatest masterpieces would never exist. Preserving art is, in essence, to preserve the nature of mankind; its culture, meaning and identity. For art lovers like these, that is as valuable as Life it self.