Monet Water Lilies at Shotheby's
On June 23, 2010, if you have a few million dollars and happen to be in New York at Shotheby's-Christie's Auction House, perhaps you will go home with a Monet in your collection. To be more specific, Lot 254, or Giverny, La Roseraie De Monet. According to reporters, the painting was not seen by the general public since a 1936 exhibition in Paris. The painting has remained in the Monet family for decades since the artist's son, Michel, purchased the painting in the twenties.
Like the other lilies, this Nymphèas was painted in Monet's garden in northern France as a part of 250 works the artist painted nearing the end of his life.
The Water Lilies Series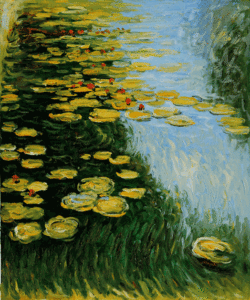 These 250 works of water lilies are also known as Nymphèas. The works were painted during the last generation of his life. The subject matter reveals Monet's flower garden and pond in Giverny, France, which was constructed by Monet himself. Though Monet was a true purveyor of Impressionism, it is known that he suffered from cataracts in old age, obviously affecting the execution of his artwork. The growing loss of his eyesight, however, assisted in the creation of one of the most treasured painting series in art history. Yet, the revolutionary brushstrokes, when compared to Monet's earlier paintings, cannot be attributed to the classic interpretation of Impressionism or the artist's deteriorating eyesight alone.
The viewer must remember that Monet's series came not only from vision, but expression and execution of memory and emotion. To some degree Monet's series is in the vein of Expressionism. Monet, through each brushstroke and palette color, re-envisions the garden that he cared for over the course of thirty years. In noting the true impression of each color, Monet integrates a bit of post-impressionist Pointillism in terms of technique but not style.
An artist will often squint at an artwork to dilute the object itself into a basic form or series of shades to better discern a color or to not impose definitive restrictions. Monet, though losing his eyesight, no longer squints. He uses a scientific approach and an emotional approach to execute the series, resulting in a revolutionary body of work that evokes a style-identity crisis in the art world, giving birth to supporting and opposing movements of art.
"The rush to live and to produce was alien to a period where calmness prevailed. M. Claude Monet belongs to quite a different age, one in which dizzying speed is the rule, where the creative person wants instant awareness of the universe and himself through quick and violent impressions…. He causes us to know and love beauty everywhere," said art critic Roger Marx in a1909 article for the Gazete des Beauxes.
Marx adds, "M. Claude Monet pleases himself….his experience directed at recording the pleasures he experiences during the course of the day as he works in a single place…. The value of the theme lies in the potential for increasing the number of sensations aroused in the viewer and enriching their quality. His system is a familiar one, but M. Claude Monet has not heretofore undertaken to push its consequences quite so far."
Monet's Garden
Among the many flowers and trees in his garden were yellow irises, tulips, roses, and water lilies, as well as holly, maple, weeping willows, sycamores, apple, and chestnut trees. The pond was handcrafted by Monet himself.
A Gift From France To Monet
Only months after Monet's death, France constructed two oval rooms to showcase eight mural pieces. The show opened in May of 1927. Since this time, different pieces of the series have been scattered in exhibitions across the world, including the Metropolitan Museum of Art in New York, the Art Institute of Chicago, and the Carnegie Museum of Art, among others.
Monet's Influence
Monet's Water Lilies certainly enrich the sensations of the viewer lucky enough to see the Nymphèas series in person. His use of color and stroke communicate the visual look and feel of the garden, but more importantly, animate the garden in a way never before experienced in art. This impact places Monet as a favorite among many, influencing artists such as Degas and Renoir.
If you cannot make it to Christie's for the auction, you can have a Monet of your own from overstockart.com. Yes, there are a few Nymphèas. Now, get your canvas, get into your garden, and start painting!