Art Travel Guide: Visit to Rembrandt's House in Amsterdam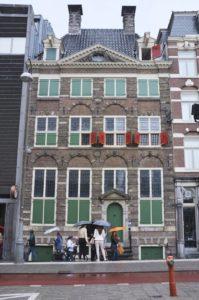 Amsterdam is an amazing city, filled with history, beauty, flavor, and of course art. There are many museums and artistic moments one can enjoy in the city that 400 years ago was one of the greatest empires in the world. However, no artist captures the spirit of the Amsterdam Golden Age then one, Rembrandt Van Rijn, an artistic genius that enjoyed great wealth and equally great despair, as a premier artist of the enlightened city of Amsterdam back in the early 1600s.
This is why I decided to start my art museum tour of Amsterdam in the place where it all began — In Rembrandt's House Museum. Rembrandt who lived from 1606 to 1669 lived and worked in a beautiful aristocratic three-story house between 1639 and 1658. Walking through the many rooms of the house that is filled with famous works of art, his collections, and painting studio you step into the world of the artist as it was 400 years ago, back in the 17 century.
Each room has a story and function and using the interactive guide available you can listen to the story behind each room and art piece. This makes the tour fun and really interesting.
As you walk inside the house and navigate through the three-story building you get an intimate look at Rembrandt's life and his passion for beauty and his curiosity. painting with shadows and light. One of the most interesting rooms is his famous art studio where he painted and taught art. The room has a wall full of windows. When you come in the morning time, you can see how the light fills up the room. Rembrandt played with light sealing particular sections of the windows and developed a system of sheets to cover and reveal light onto his canvas.
In his life, Rembrandt managed to be financially successful – as a painter, a teacher, and an art dealer. However, his opulent life was also filled with misfortune. He buried all his children (three newborns and a fourth child at 27); widowed twice and saw his wealth fade away. His beloved collection of ancient sculpture, Flemish and Italian Renaissance paintings, Far Eastern art, contemporary Dutch works, and eventually his house ended up being auctioned to pay his debts after declaring bankruptcy in 1656.
However, adversity didn't tame his talent. It rather deepened it through an emotional journey. He no longer was interested in refinement and beauty, but rather in creating art that tells the truth, the hidden depth behind the pose – an inconvenient honesty for his time. His work caused admiration and controversy, from his groundbreaking exploration of the oil paint texture to his remarkable ability for detail.
In 1669, Rembrandt died at age 63 – ill, bankrupt, with a lost reputation – but he left a precious legacy: the knowing that beauty cannot be bound by time or taste, and emotions don't always show in perfect forms. His research in light and colors have influenced the great artists that followed in his footsteps and his art is considered an important stepping stone in the development of the Modern art era.
I enjoyed my time at Rembrandt's House museum, it was my favorite art visit in Amsterdam. It engulfed in it both an artistic journey and a historic look in the life of the greatest artist of the Dutch Golden Age. So the next time you visit Amsterdam, be sure to visit the Rembrandt's House Museum, it is a short 5-minute bicycle ride from Dam Square and you will enjoy it immensely, I know I did.