overstockArt.com Partners with the Kidd's Kids Foundation for a Charitable Give & Get Art Event
overstockArt.com is proud to announce its month-long "Hand Painted 4 Kidd's Kids" promotion to benefit Kidd's Kids foundation. The organization, founded by nationally syndicated morning show personality Kidd Kraddick to provide chronically ill and/or physically challenged children (ages 5 to 12) with all-expenses paid, fun-filled, vacations to Walt Disney World ® in Florida The Kidd's Kids program is based on the premise of making a difference in the lives of children with special medical needs.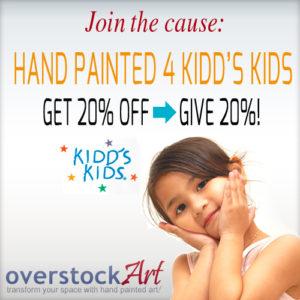 overstockArt.com is holding a Give and Get event where the customer gets 20% off and overstockArt.com sends 20% of the profits to the charity.
We are touched by Kidd Kraddick's work with Kidd's Kids and wanted to help in bringing joy to these children," says overstockArt.com's CEO David Sasson. "We were saddened to hear of Kraddick's passing. We hope we can make a significant contribution in his honor so his good work can continue."
The month long event will be the first of its kind by the retailer and will enable overstockArt.com customers to not only get a great discount but also help a great cause at the same time. To participate simply enter your email here and insert the promotion code at checkout. Customers will receive 20% off their entire order. In addition, overstockArt.com will donate 20% of the profits to the Kidd's Kids foundation.