Picasso Breaks the Auction House Record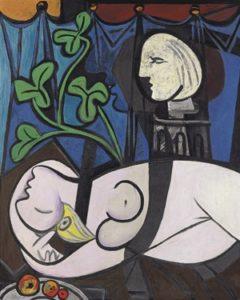 On Tuesday night, Pablo Picasso was restored to what many consider his rightful place at the top of the most important artists in the world. A canvas that he painted in a single day in March 1932 was bought for $106.5 million (£70.3 million) at Christie's in New York – making it the most expensive work of art ever sold at auction. The news must have turned dealers, auctioneers and art collectors delirious with delight as in the art world, at least, the good times appear to be back.
This is not the first time that Picasso has held this exalted record. In 2004, his Boy with a Pipe, which dates from 1905 at the height of his so-called Rose Period, sold at Sotheby's in New York for a record-breaking $104.1 million. The extraordinary thing is that Picasso's Nude, Green Leaves and Bust, which set the new record this week, looks nothing like Boy with a Pipe, in subject matter or style. Most people unfamiliar with modern art would surely assume that the two paintings had been made by different artists.
Nude, Green Leaves and Bust, which was last sold, for $19,800, to a family of American art collectors in 1951, is a very different proposition. It shows a naked woman lying asleep beneath a classical bust and a rampant philodendron plant – but it is not remotely realistic. The bold blocks of colors are flat and intense, bound by thick black outlines. The woman's skin is an extraterrestrial lavender. Her arms are not anatomically correct, but instead curl beneath her head, mirroring the tendrils of the plant above her. A shadowy profile (a self-portrait?) floats among the folds of the blue cloth in the background, in between the plant and the bust. Overall, the painting has a distorted, dreamy, childlike aspect. Nearly three decades after Boy with a Pipe, Picasso was no longer interested in making paintings that even pretended to be life-like.
The story behind Nude, Green Leaves and Bust helps us to understand why it is considered such a wonderful work of art – and why Picasso, in the words of one of his dealers, illuminated the 20th century like a comet.
The woman is a portrait of Picasso's muse and mistress Marie-Thérèse Walter, whom the artist met in the 1920s, when he was in his mid-40's, and she was still a teenager. "When I met Picasso I was 17," Marie-Thérèse said in an interview with Life magazine in 1968. "I was an innocent young gamine. I knew nothing – life, Picasso, nothing. I had gone shopping at the Galleries Lafayette, and Picasso saw me coming out of the metro. He simply grabbed me by the arm and said: 'I'm Picasso! You and I are going to do great things together.'"
Picasso and Marie-Thérèse soon began an affair, which rejuvenated the middle-aged artist and quickly suffused his work. He embarked on a run of sumptuously erotic canvases which are the visual equivalent of great love poems. These dazzling paintings, of which Nude, Green Leaves and Bust is a fine example, are characterized by bright, joyful colors and plump, suggestive forms. Their brushwork is lush and fluid. Marie-Thérèse is frequently presented naked and asleep, as though resting after sex.
For better or worse, Picasso took a wrecking ball to six centuries of art history – and, by grappling with the great Western tradition, he fashioned a revolutionary new visual language better known as the modern art era.