Top 'Liked' art posts from facebook November 2011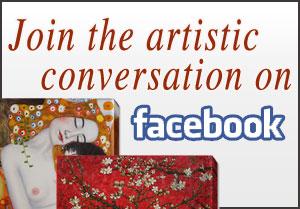 The following is a list of the top posts of the week that we've shared with our facebook friends on the overstockArt.com facebook page. We try and make our facebook posts informative and engaging as we love to hear what our fellow art lovin' friends have to say about particular artists and their art. So if you have a moment, check out the overstockArt.com facebook page and share your passion for art and wall decor with us!
Winter weather usually leads to more time indoors, and while the view outside may be bleak, by bringing the outdoors in with floral oil paintings the transition can be far less depressing. A. Yaari's spontaneous brushwork and candid use of color gives "Sensota Flowers" a vibrant energy that can wake up your walls and help keep the winter doldrums at bay.

Looking for art with stylish appeal to transform your home for the holidays? Our floral gallery features some of the greatest floral oil paintings of all time, from a variety of artists and styles to compliment a wide array of tastes.

Find art that offers instant appeal and inspires you by browsing our entire floral gallery.

Egon Schiele (1890 – 1918) was an exceptionally prolific Austrian Expressionist whose formidable talents were fully matured when he was a teenager. After studying with Gustav Klimt at the School of Arts and Crafts in Vienna, Schiele became his protégé.

Klimt helped groom Schiele and the two held many exhibitions together. Schiele is best known for creating emotionally charged portraits and nudes in contorted positions, often with a grotesque or erotic focus. While being stationed in Prague in WWI, he was able to continue creating artwork while serving as a prison guard. Returning to the art world in Vienna in 1917, he brought back with him a newfound maturity which was reflected in his work.

Sadly, he and his pregnant wife Edith who's portrait is featured here, fell victim to a Spanish flu epidemic, and passed away the next year, only three days apart from one another. Schiele left a legacy of almost 3,500 compelling artworks.

Mad Men Inspired – Rothkos
We've pulled together some of our favorite Mad Men-inspired Mark Rothko pieces. Flip through our Rothkos and take a trip down Madison Avenue.
This is it! We hope you will continue to enjoy reading our ArtCorner blog and come join us on facebook for more artistic discussions!