Top Nine Art Pieces of 2022
As we approach the new year with hope and optimism, it is a good idea to look back on 2022 and take stock of what we learned. Here at OverstockArt.com, we can look at our sales data and see the emotional shift in our customers. Over the last year they have focused on more somber and introspective pieces than in previous years. The same big name artists dominated the list, such as Vincent Van Gogh and Claude Monet, but we also saw newcomers such as Harry Roseland steal some spotlight.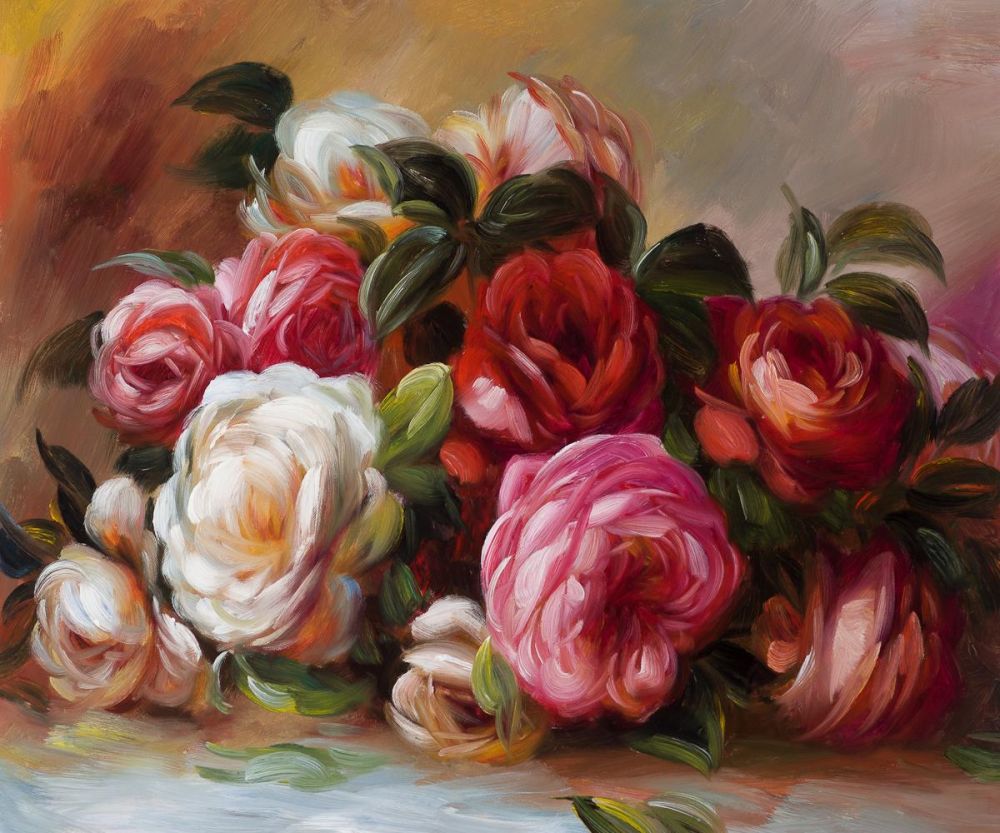 Pierre-Auguste Renoir worked tirelessly at his Impressionist artwork and Discarded Roses is one of the most moving pieces from later in his life. Though categorically a still life, Discarded Roses feels as though it has movement thanks to the light and fleeting feeling created by the artist's Impressionist techniques. Renoir's beautiful depiction of the roses, including a luxurious display of texture and color, is something truly stunning to behold.
To the Highest Bidder by Henry Roseland is a rare work of this particular painter because Roseland's paintings typically depicted the life of struggling African Americans after the Civil War. This piece though features a somber look pre-civil war, of a woman and daughter at a slave auction.
Claude Monet spent many days in his gardens perfecting his depictions of flowers and natural features and it's clear that by the time he painted Corner of the Garden at Montgeron he had mastered French Impressionism. All the tell-tale signs of the movement are there, including natural color palettes, broad brushstrokes and dreamy landscapes.
Starry Night is one of the most famous paintings by Vincent Van Gogh. Painted from the window of Saint-Paul asylum in Saint-Rémy during one of his depressive episodes, Van Gogh beautifully captures the swirls of colors, texture of the moon, and stars rising over the small village below. Starry Night is considered a favorite of art historians and fans of Van Gogh.
One of Pierre-Auguste's most striking still life paintings is Grande Vase Di Fiori. The level of detail and dimension he created in this work were unparalleled by his peers at the time. Using Impressionist techniques, he was able to focus in on a single subject while still creating the sense of a moment captured in time. The lush florals in this painting look soft and silky enough to touch.
The Storm on the Sea of Galilee is a famous painting by Dutch painter Rembrandt. His contributions to art came in a period of great wealth and cultural achievement that historians call the Dutch Golden Age. This painting depicts a famous religious scene, which is one of Rembrandt's common topics. As Rembrandt's only seascape, it's notable for its intense use of color and action-packed scene.
Vincent Van Gogh's Cafe Terrace at Night was created in Arles, France at a local coffee house. The vibrant combination of warm colors and depth of perspective are definitely unique to Van Gogh's style of painting. It was the first painting in which Van Gogh started using backgrounds filled with stars in his work, pre-dating both Starry Night and  Starry Night Over the Rhone.
A beautiful masterpiece, Claude Monet's Garden Path at Giverny imagines and delivers on a grand scale. Lush foliage and many shades of color saturate the canvas while the viewer's eyes are enraptured by the intensity of the scene. Known as a classic Impressionist, Monet aimed to analyze the ever-changing nature of color and light.
One of the most iconic Gustav Klimt paintings is The Kiss. The painting depicts a couple surrounded by a gold blanket and ornaments sharing a moment of sheer passion – the perfect kiss. Painted during Klimt's Golden Period, it showcases his Symbolist style with bold colors and intricate patterns. Klimt's mature style combines richly decorative surface patterning with complex symbolism and allegory.
You can see that there are certain themes, such as diverse nature scenes and somber undertones, but there really is a lot of variety being picked. Some were seeking solace in pieces like Discarded Roses, while other looked for strength in works like To the Highest Bidder. We were happy to help our customers find the perfect piece they were looking for all year long and look forward to do so in the coming year as well. Feel free to look at these, as well as many more popular pieces, in our Bestsellers Gallery. Happy New Year from our family to yours!