ArtistBe.com Launches Newly-Redesigned Website for Artists & Art Connoisseurs
Artist Become (ArtistBe.com), the revolutionary online community for creating, selling and buying artworks online, today announced the launch of its newly redesigned website.

ArtistBe.com is an online platform providing tools and resources to enable emerging and established artists to showcase and sell their artwork. The online community focuses solely on original art and its growing amount of artist members.
"With the newly designed ArtistBe.com we are doing more than creating a place for up and coming artists to display original art, we are in essence, creating a new social platform for artists and art lovers alike to mold and shape the next generation of contemporary art ," stated David Sasson, overstockArt.com's president and CEO.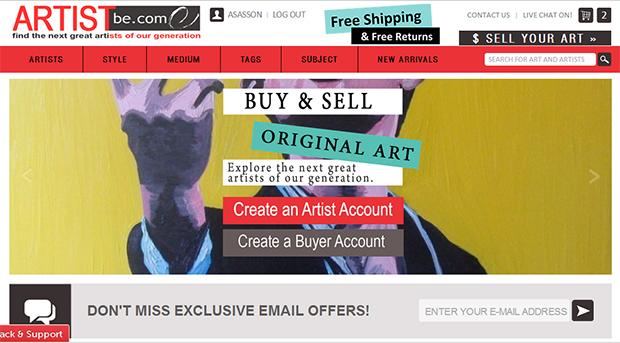 Some of the new features of ArtistBe.com include:
Connecting artists and art aficionados around the world – Fellow artists and art lovers can connect and communicate with other community members, comment and rate each other's artwork and become fans of other members. The site utilizes the latest in social networking features such as sharing, connecting and commenting via Facebook, Pin It on Pinterest and other social networking tools. Artists can create their own galleries for free and have a dedicated URL to showcase their art, biographies, exhibitions and more.
Art purchasing options – Artwork can be purchased as an original piece of art directly from the artist, or as an affordable canvas transfer print. Artists get royalties for every reproduction sold.
Easy site navigation – Like overstockArt.com, ArtistBe.com has arranged its content into a variety of different galleries specified by artists, subjects, styles and art types – artists will dictate how this online art community will look in the future. The site is extremely user-friendly and easy to navigate.
ArtistBe.com provides a unique means for emerging artist to be discovered, and to assist established professionals in finding new clients without relying on agents. There is no cost to join and members can sell their art without commission fees. Artists receive royalties for every canvas reproduction sold. Reproductions come in a variety of sizes; pricing of originals is dictated by the individual artists.
"Our commitment to art and the art world started with overstockArt.com," said Sasson. "Now we want to branch out and give art lovers around the world a chance to find the next great artists of our generation. ArtistBe.com gives artists the ultimate platform to become recognized for their work and to make a living out of their creations."
Art is not an easy thing to sell, let alone online, but ArtistBe.com will have the unique ability to leverage itself with its parent company, overstockArt.com. Sasson stated, "This relationship allows ArtistBe.com to introduce and promote its member artists to overstockArt.com's network of thousands of art lovers, which will help them grow awareness and ultimately sales."
ArtistBe.com's founding members come from around the globe, with notable artists such as Justyna Kopania from Warsaw, Poland, Pol Ledent from Brussels, Belgium and Helena Wierzbicki from Buenos Aires, Argentina to name a few.