Provost Fabien – Connection Art with Color
Our featured artist this month creates bright connection art with color. Provost Fabien is a French artist, living and working in Crozon, France. He enjoys spending his time with his sketchbook and a good cup of coffee, at quiet hours of the night. Living in both the world of law and art, Fabien aspired to pursue freedom and truth in both. His artistic drive compels him to work on it daily, but he does still take time to enjoy the world around him and draw further inspiration.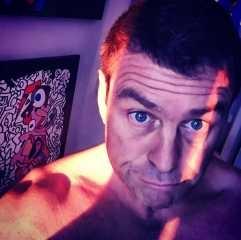 A great deal of Fabien's style comes from graphic design, but he also likes to incorporate elements of landscape design and comics. He combines dark organic contours and bright color, creating intricate patterns that capture the eye. The final result is connection art with color. For him, these represent the way all people are linked together in the world. Therefore, each piece is meant to give the audience a view of the complexity of the world we live in.
If you take your time to browse through the Provost Fabien gallery, you will see the intricacy of each piece, as he weaves the shapes together. Crozon, named after the city he where he resides, is a puzzle of bold and vibrant colors. The pieces displayed in Ryk are separate, yet still display an intuitive connection. Full coverage color is represented in Arteres, with contrasting blue and red. Then, there is the lush green colors used in Amazonie 1, instantly bring to mind a tropical jungle. All of his pieces are explosions of color and pattern that will bring joy to your home or office. Explore the wonders of this great new contemporary artist and his connection art with color.