Da Vinci's Salvator Mundi Becomes the Most Expensive Painting Ever
Last month, a recently discovered painting by the famous Renaissance artist, Leonardo da Vinci, became the most expensive painting in the world. The painting, Salvator Mundi, was recently sold at auction for $450 million at Christie's to the Saudi prince, Bader bin Abdullah bin Farhan al-Saud.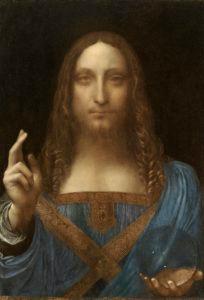 This painting, discovered in 2005 in bad condition, depicts Christ Jesus with his left hand raised with two extended fingers, and his right hand carrying a clear orb meant to symbolize the universe. Over the years, it has been studied and restored, and finally authenticated as an original da Vinci in 2011. Before restoration, the painting was described as a mess, as it was highly damaged, and heavily overpainted. Christie's had expected it to sell for only about $100 million. Selling for over 4 times that amount makes this the most expensive painting ever.
One of less than twenty paintings attributed to Leonardo, Salvator Mundi is the most recently discovered, the last one being Benois Madonna in 1909. Leonardo's Salvator Mundi has also been deemed the greatest version of over twenty versions of Salvator Mundi by other artists. Dating from around the year 1500, this painting is believed to have been a commission by King Louis XII of France.
The painting will be on display in the Louvre Abu Dhabi, the first museum outside of France to have 'Louvre' in the name. The painting is expected to draw a great number of viewers from around the world to Abu Dhabi.