Edward Hopper on Display in Both Madrid and Paris
When one thinks of Edward Hopper, a slice of Americana comes to mind.  Urban and rural scenes, populated with people and landscapes from the coasts of Maine, Massachusetts and Connecticut in New England, to the urban landscapes of New York were his focus.
Now, from June 12 – September 16, Edward Hopper unites Madrid, Spain and Paris, France – in Madrid. In Madrid's Museo Thyssen-Bornemisza, a special collaborative project between the Museo and the Réunion des Musées Nationaux de France opens. (From Madrid, the exhibit will move to Paris for exhibition at the Grand Palais from October 10, 2012 – January 28, 2013).  The new exhibition called simply, Hopper, is perhaps one of the most important Hopper exhibitions outside of the United States.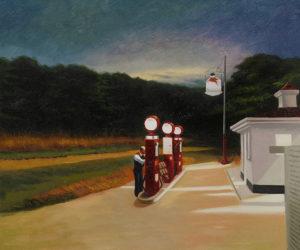 How so? The Museo in Madrid is home to the most important Hopper works outside of the United States.  And Paris' role? A key touchpoint and a reference for Hopper as an artist. He loved Paris, moving there in 1906 and staying for nearly a year. So influential was Paris on Hopper, that he returned numerous times throughout his life.
How important is this exhibition? It is the largest and most extensive exhibition of works by Hopper ever to be shown in Europe. Loans from museums and institutions
The National Gallery of Art in Washington, D.C., "The MoMA and the Metropolitan Museum in New York, the Addison Gallery of American Art, Andover, and the Pennsylvania Academy of Fine Arts, Philadelphia, in addition to various private collections and with a particularly generous loan from the Whitney Museum of American Art, New York. The latter is sending 14 works from the Bequest of Josephine N. Hopper, the artist's wife" makes this exhibition truly groundbreaking.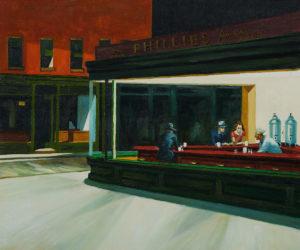 In total, the exhibition includes 73 works of Edward Hopper. The exhibit breaks out into two sections.  The first part highlights Hopper's early years (1900 to 1924) in the studio of Robert Henri (at the NY School of Art).  Within this section, sketches, drawing, prints, paintings and watercolors will be on display, along with works from other artists to complement Hopper's own work, such as artists: Winslow Homer, Edgar Degas, Robert Henri and John Sloan.  The second part of the exhibit (1925 onward) combines recurring motifs and subjects, flowing seamlessly in a chronological order.
One of the trademark features in Hopper's works is his use of light. Sunlight used for day lighting, while electric light at night illuminated scenes, highlighting the subjects, adding detail and depth to each piece. For example, his Summer Evening is a perfect example of the use of electric light to illuminate his subjects, while the bright shore light of  Rooms by The Sea pours into the doorway and reflecting off the bright blue sea.
One of the best known and most highly appreciated American painters, Edward Hopper presents American realism to the world, a symbol of our nation's heart and soul.