Emilia Milcheva Creates the Landscape of Dreams
Here at overstockArt.com, one of our favorite things is discovering new artists at Artistbe.com and bringing their beautiful work into the spotlight. This month our artist of the month is Emilia Milcheva, who has the ability to transform landscapes into dreamlike images. She is an artist who likes to work with different paints to enhance the beauty that mother nature has already given the world, allowing us to give a piece of that splendor to our customers. Milcheva will transport you and your guests to a world of wonder and imagination, inspired by the nature around us.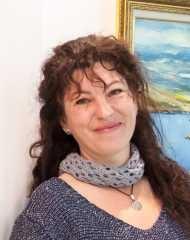 Born in Kazanlak Bulgaria, Emilia Milcheva says that her desire to create art was originally inspired by one of her mother's dresses that fascinated her with its colors and floral patterns. She responded to the feminine elegance and felt drawn to creating works of art that had a similar appearance. It began by painting roses inspired by that dress but has now become an impressive collection of paintings inspired by the world around her.
Painting has always been Milcheva's passion, but she has enjoyed experimenting with different mediums. She has used watercolors, acrylics and oils to create the beautiful pieces she is known for. Each of the different paints creates a different kind of art, leaving a different emotion on the canvas. She loves how oils allow you to build the scene over time, creating depth with shadows and light. Acrylic on the other hand captures the moment in one breath, which holds a different appeal. For her it is not about the paint being used, but the way the emotion is being conveyed to the audience. Sharing a precious fragment of nature's beauty is her hope for each painting she creates.
Milcheva finds nature to be her greatest source of inspiration. She creates landscapes that evoke a strong emotional reaction because she wants people to feel that the nature around them is alive. The plants and flowers in her works have a spirit to them, reaching out to connect to her audience. These are not simple landscapes that show the reality of the moment, they are intended to give the viewer a glimpse into the wonder that the artist sees. It is a sharing of hope, tranquility, joy and harmony. From the romantic imagery of Made in Love to the rich depth of Autumn Glory, it's hard to imagine the world as anything but beautiful with this artist's vision.
The best part of discovering new and innovative artists is the ability to share those artists with other art lovers. We here at overstockArt consider Emilia Milcheva's paintings to be feminine and beautiful. They are full of dream like colors and textures. These pieces will add an appealing landscape to any room of the house, attracting compliments from any of your guests. Take a moment to look through her gallery of high quality prints on canvas  and find the piece that connects with you emotionally. We have tried to provide enough variety in sizes and colors to match any mood; as well as a full range of lovely frames.