Children's Room Art: Bright and Bold
This month marks the birthday of one of the most iconic children's book authors in history, Dr. Suess. His inventive stories were full of magic and wonder, capturing the imagination of generations of children. Some of the indicators that it was a Dr. Suess story, was the use of bold and bright colors. You can bring a little of that magic into your own child's bedroom by choosing a hand-painted piece of art that also showcases those vibrant colors. Here are some of our top picks for children.
Pierre-Auguste Renoir – In the Meadow (Picking Flowers)
In the Meadow by Pierre-Auguste Renoir depicts two girls – the same young women who appear in many of Renoir's works from this period – leisurely picking flowers on a pastoral hillside. This painting is a classic example of Renoir's version of impressionism. Renoir was famous for his paintings celebrating feminine beauty, and this work is a prime example of his love for using vibrant light and color.
The Shoes is a colorful expressionist painting by Iris Grover. She paints using colors as an expression of her emotions and feelings. The blue background brings a calm feeling while the rich magenta and peach in the rose adds energy. It is the perfect depiction of a childhood hobby that most never stop loving. The soft lines and blending of the hues creates a dreamlike scene that any child will appreciate.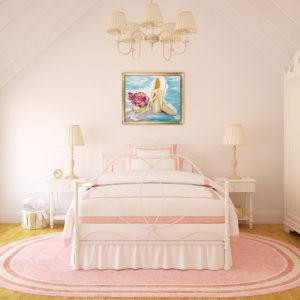 Adrian Borda – Our Love Will Light the Night
Our Love Will Light the Night is a beautiful surreal painting by Adrian Borda. The soft blue and white tones and nighttime scenery make this a perfect painting for the bedroom. Adrian Borda is a contemporary Surrealist, who doesn't care about conventions and taboos. He wants his work to invoke feelings in the observer. He uses the bright blue against the stark black to enhance the mysterious quality of the scene, which plays out the feelings of childhood wonder.
Edgar Degas is perhaps best known for his paintings featuring dancers. He was capable of capturing their exquisite form and movement in a distinctive way. Dancers in Blue has an intimate quality that pulls the viewer in immediately. He was able to capture the striking poses and natural grace of the dancers in a unique way. This piece is especially noticeable for its use of a bold, bright blue hues. This ties the group of dancers together and sets them apart from the surrounding scenery, making them look especially whimsical and youthful.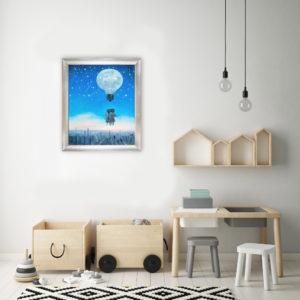 Avant-garde Swiss artist Alice Bailly drew inspiration from a variety of new and exciting styles during her time in Paris. These distinctly modern styles are clearly visible in this work from 1922, entitled The Elephant. Fauvism's vibrant colors are a perfect fit for this circus scene. The impossible perspective flattens all of the action into one image, creating a complex sort of organized chaos. This piece by one of the 20th century's most groundbreaking female artists is sure to capture the attention of adults and children alike.
This gorgeous painting by Franz Marc features distinctive bold colors and abstract styling that made him one of the most renowned artists of his time. Marc was devoted to portraying animals in nature. His striking take on these rustic scenes make them utterly captivating even today. His use of color is especially notable since he developed his own theory of color symbolism, with yellow being a feminine color symbolizing gentleness and cheerfulness.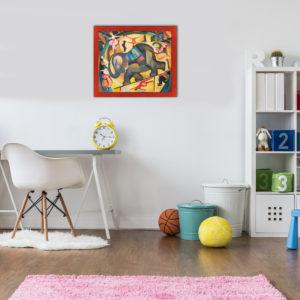 Giovanni Boldini – Girl with Black Cat
Giovanni Boldini was famous for his dynamic take on the Realist style. His broad swaths of flowing color recall the work of John Singer Sargent and the Italian proto-Impressionist Macchiaioli School. It was during his incredibly successful period in the French capitol that this picture was made. The girl and her feline friend appear poised and elegant, yet alive and in motion. Her classy dress is echoed even in the colors of the cat's fur which is quaintly reminiscent of a fine suit.
This is only a small sampling of the various pieces of art that we offer in our children's room gallery. Take your time and find the perfect piece to match your little one's personality. We offer the bold hues enjoyed by Dr. Suess, but also softer and gentler colors as well. We just know that the right work of art will inspire the children in your life.