Expressionist Helena Wierzbicki Named Artist Become's September Artist of the Month
Argentinean figurative expressionist artist Helena Wierzbicki was named Artist Become's September Artist of the Month. Born in Buenos Aires, Argentina, Wierzbicki started her career as an artist more than twenty years ago. She attended the Escuela de Bellas Artes in Buenos Aires and has studied with the Argentine masters Luis Barragan and Elio Eros Vitali.
Wierzbicki's influences are from the Expressionist movement, her style is defined by abstract portraits that play on a variety of bold colors. "My art is an evolving process," she explained. "I take and represent only elements which are the essence of the object or of the imaginary being. I rely on my desires for beauty, poetics, and seduction."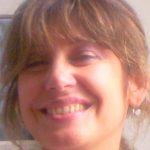 Wierzbicki continued, "Making art for me is an innate response to the inner and outer worlds and a balancing act between the intuitive and the considered, within my innermost thoughts and emotions."
Wierzbicki's work has been showcased in art shows throughout Argentina and abroad, including at an exhibit in Philadelphia. Her last exhibition was at the Salon de Arte Argentino Actual at the Sivori Museum, Centro Cultural Recoleta in Buenos Aires.
Wierzbicki exhibits more than 60 works of art in her personal gallery on Artist Become. Those works of art include:
Animus – Strong color lines accentuate the beautiful, soft curves of a woman's side profile in this abstract portrait.
Don't Look Back – In this abstract portrait, Wierzbicki captures the essence of her subject as she pensively looks forward with the use of strong colors and bold spacing of colors.
Inner Reflections – Bold hues of red, orange and yellow off-set the soft, sensuous lines of the body in this abstract nude oil painting.
Wierzbicki joined Artist Become so that she would have a venue to share her artwork with people around the world. She is one of more than 500 international artists featured on Artist Become.
Since its official launch in March 2011, Artist Become has been opening doors for emerging and established artists around the world. There is no cost to join and members can sell their art without commission fees. Artists receive royalties for every canvas reproduction sold. The online community focuses solely on original art and its growing amount of artist members.