Jose Higuera : Capturing a Moment Forever
Jose Higuera was born in Germany, but moved to Spain when he was a young boy and has lived there ever since. As a child he took an interest in art and found a great deal of support from his family and teachers. Those who knew him would often supply him with materials so that he could pursue his passion for art and learn through practice. Although he spent time studying other artists, Higuera considers himself a self-taught artist who dedicated a lot of time to enhancing his work. This kind of dedication and focus has allowed him to be a full time artist.
Higuera is a master of the realism technique, capturing every detail in a scene to make you feel as if you are looking at it in real life. Realism is described as being a precise, detailed, and accurate representation of the visual appearance of scenes and objects, almost to the point of being mistaken for a photograph. Many of these artists choose ordinary, everyday subjects to enhance the significance of the detailed technique. Using things that we often see in real life gives the impression of being able to stop time and preserve it for the future. Using oil paint as a medium guarantees it will last as long as possible and resist the deterioration other mediums suffer.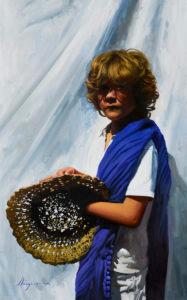 Inspiration comes to Higuera in many forms, including the hustle and energy of the city or the quiet composure of still life subjects. One of his favorite subjects to paint are his children. He is able to depict them in the innocent moments that seem too brief in childhood, giving us something to enjoy far longer. One of those pieces is Rest, which shows one of his children reclining comfortably among soft looking pillows and blankets. The use of light being cast across him, while still hiding his face in shadows gives us the impression of an afternoon nap.  In his piece, Seller of Hats, the details in the hat being held by the child are so delicate it almost looks like you could feel the stitching.  Even the child's blond hair is tousled by the wind and appears real enough to watch the movement. Another piece, Tenderness, depicts one of the children holding a cat and the texture in the painting makes it seem like the pet might wiggle free any moment. It is in this kind of detail that his passion for what's real can be observed.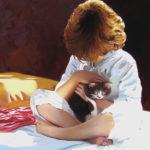 Jose Higuera is one of the best painters in the Realism style and a glance through his gallery makes it easy to understand why. Astonish your guest with a piece of art that gives you a realistic glimpse into a moment that lasts forever.