overstockArt.com Releases Its New 2015 Spring Art Catalog
overstockArt.com released its 2015 Spring Art Catalog today. The new online catalog, which showcases an impressive line of hand painted fine art reproductions, is the latest addition to the retailer's multiple online resources available to simplify shopping for the busy home decorator.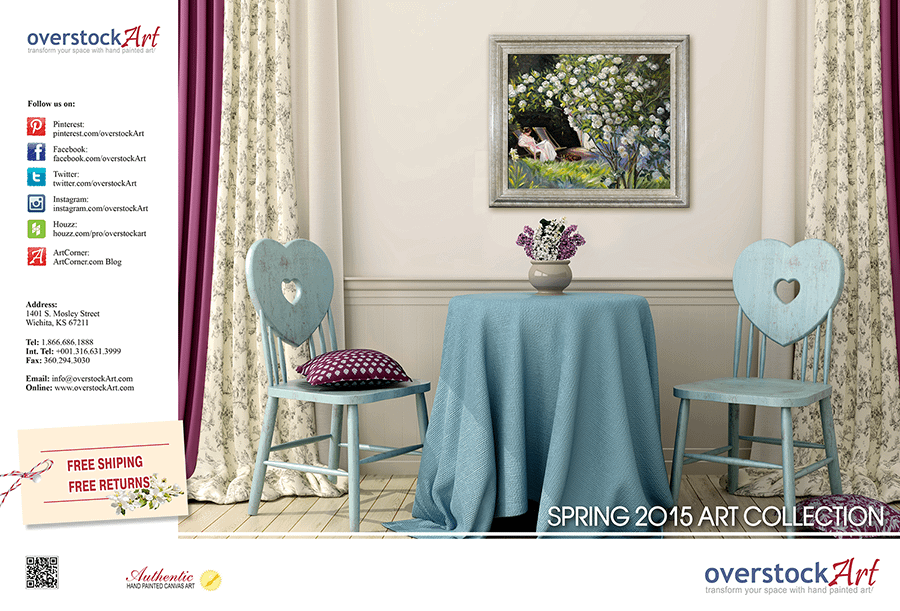 overstockArt.com's Spring Art Catalog features more than 500 best-selling hand-painted oil paintings divided into Art Collections, Canvas Prints from up-and-coming Artist Become collection, as well as a selection of museum quality frames to best compliment your chosen work of art. The catalog is highly interactive allowing users to zoom in on the art, view product descriptions and more images of the product by clicking on the "tag" link on each painting. It is a full catalog with full color and links to all of the products featured.
The 2015 Spring Art Catalog can now be accessed in four ways:
1. Access the 2015 Spring Art Catalog at http://www.overstockart.com/gcatalog.html.
2. Access the 2015 Spring Art Catalog in the Home and Gifts sections of Google Catalogs.
3. Access the 2015 Spring Art Catalog on your iPad or Android Tablets using the Google Catalogs App.
4. Access the 2015 Spring Art Catalog on your iPad or Android Tablets using the Catalogues by theFind App.
"Our mission at overstockArt.com is to make shopping for art into a rich and fun experience, we achieve this by removing all the doubts from the buying process and enriching shoppers with a great shopping experience and ultimately a magnificent piece of art for their space," said David Sasson, CEO of overstockArt.com. The new catalog is now organized via subjects and collections. It holds many of our newest arrivals along with exclusive collections and even our "Turn photos into Hand Painted Art" service.