Patrick Dumas is October's ArtistBe.com's Artist of the Month
Patrick Dumas is a French visual artist who has been getting the attention of contemporary art lovers and galleries all over France, Belgium and Germany since 2008. Unlike many artists, he has no childhood love story with brushes and paint; or any formal education in Visual Arts. Instead, he had an awakening and a rather fast evolution since he was first given the challenge to paint. An opportunity through which he unveiled a talent – and a path to freedom.
Dumas was born in 1978 in Lyon, to a family of three sisters and one brother. There he lived, studied and worked as a Cultural Event Organizer. Five years after discovering art, in 2013, he moved to the region of Ariège where he found a creative haven amongst the forest and the Pyrenees. Art has then become a way of being, an urge, an unexpected door to escape the world. In turn, he offers an opportunity to reflect upon a consumerist society, overloaded with contrast, colour and information.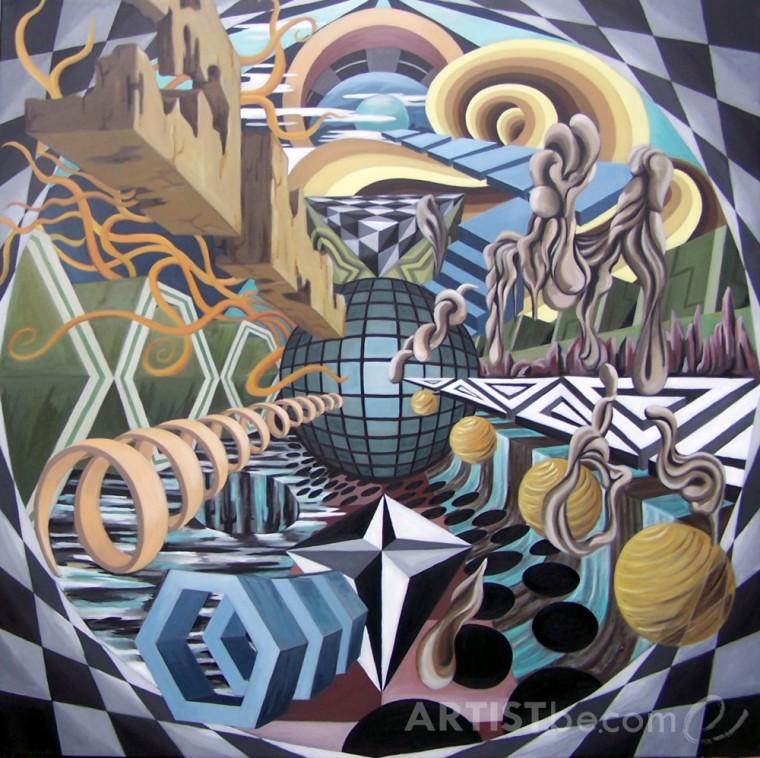 At first glance, Dumas' work could be thought as street art – a simplistic impression refuted by the intricacy of his technique. On his large-scale canvases he cleverly combines the concepts of Surrealism and Psychedelic, granting to his oil on canvas a remarkable precision and finesse.
He combines contemporary currents in mixed perspectives conveying a world of contrasts: between reality and imagination; antagonistic colours that coexist smoothly; the superimposition of organic and geometric shapes; the attraction of a colourful landscape and the fear of getting lost.
Patrick Dumas has nourished his creativity of Surrealism, Op Art illusions and the idealistic Dada Movement. He is also influenced by the magical world of J. Bosch, the complexity of Eicher 's structures and strength in Vasarely's geometries. And such as Marcel Duchamp, he believes that "the painting is done as much by the viewer as by the artist" giving back to his audience their true place in art. He does not define his message; all he wants is to propose a journey in the mind of the beholder. To take the observer into a place where it is possible to feel textures, shapes and volumes through a visual trip.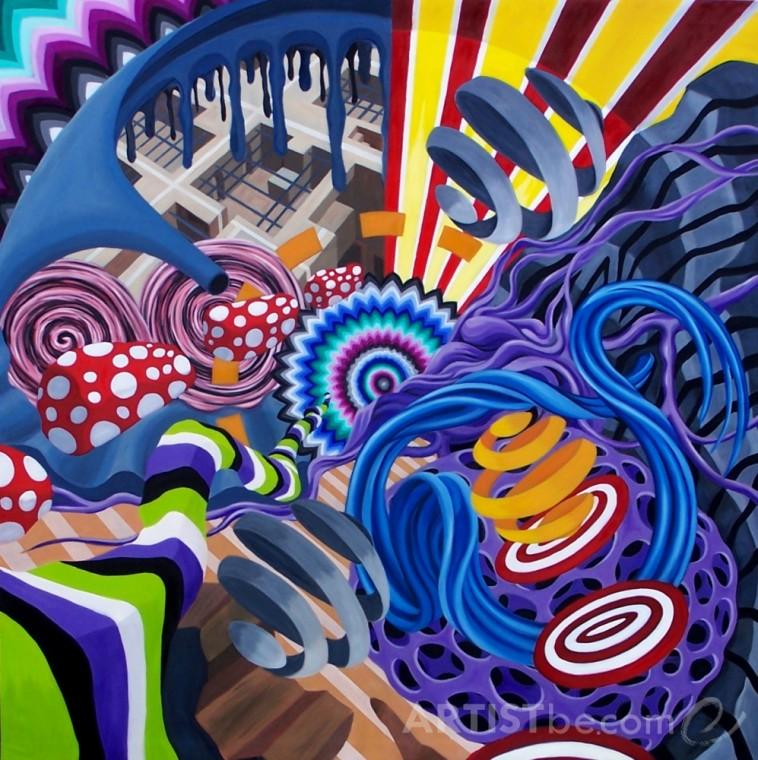 In October, Patrick Dumas emerges from Esplas de Sérou to debut on Artist Be as the artist of the month, among more than 2500 artists from all over the world. Artist Become has been one of the most successful artistic communities online, which has been taking emerging and established artists to a global scene, enabling all art lovers to access high quality reproductions for an accessible price. To know more about his available work in Artists Be visit his gallery at: http://www.artistbe.com/artist-shop/?artistId=2082.