The Legacy of Norman Rockwell
Many artists, particularly painters, have made a name for themselves for their artistic ingenuity. They've painted and brought new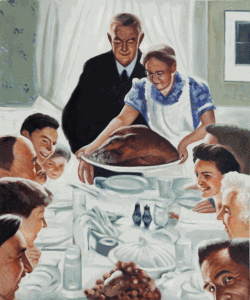 meaning to an object or a scene or an event. However, there are seldom artists who make use of their craft in addressing day to day issues, such as poverty, love, freedom, communication, bravery, work, and everyday mundane activity of human life. Norman Rockwell is one of those few.
Norman Rockwell has made a great impact not only in terms of his art but also in terms of his social contribution.
To give you a glimpse of who Norman Rockwell was and what he's done that has made an indelible mark in history is to bring you back to the city of New York where he was born on February 1894. This is where he cultivated his gift under the tutelage of instructors from Chase Art School, the Academy of Design, and finally the Art Students League. His artistic style was influenced by his instructors Thomas Fogarty, George Bridgman, and Frank Vincent Dumond.
Norman's first major breakthrough came in 1912 at age eighteen with his first book illustration for Carl H. Claudy's Tell Me Why: Stories about Mother Nature. This catapulted him to become the art editor of Boys' Life published by the Boy Scouts of America. Unfortunately, his streak was cut abruptly with an imminent war.
Rockwell's family moved to New Rochelle, New York (The same suburban town from the movie "Catch me if you Can" starring Leonardo DiCaprio) when Norman was 21 years old and shared a studio with the cartoonist Clyde Forsythe, who worked for The Saturday Evening Post. With Forsythe's help, he submitted his first successful cover painting to the Post in 1916. Norman Rockwell published a total of 322 original covers for The Saturday Evening Post for over 47 years. Rockwell's success on the cover of the Post led to covers for other magazines of the day, most notably LIFE Magazine.
In 1943, during the Second World War, Mr. Rockwell continued on to produce his most famous four-part series of paintings of the most powerful war caricatures inspired by the famous Franklin D. Roosevelt's speech – Four Freedoms. These masterpieces as described were the four principles for universal rights: Freedom from Want, Freedom of Speech, Freedom to Worship, and Freedom from Fear.
During his long career, he was commissioned to paint the portraits for Presidents Eisenhower, Kennedy, Johnson, and Nixon, as well as those of foreign figures, including Gamal Abdel Nasser and Jawaharlal Nehru. One of his last works was a portrait of Judy Garland in 1969.
For "vivid and affectionate portraits of our country," Rockwell received the Presidential Medal of Freedom, the United States of America's highest civilian honor, in 1977.
Rockwell died November 8, 1978, of emphysema at age 84 in Stockbridge, Massachusetts. First Lady Rosalynn Carter attended his funeral.
To see more of Norman Rockwell's paintings, you can visit the Norman Rockwell Museum. The Museum's collection is the world's largest, including more than 700 original Rockwell paintings, drawings, and studies.