Top Five Most Popular Paintings for Spring 2013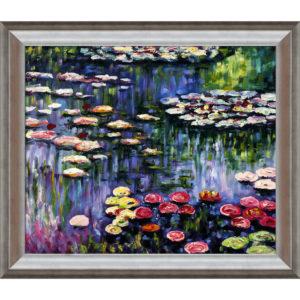 overstockArt.com, the online gallery of high-end wall art, announced its most popular selections of decorative art for spring. Based on detailed analytics from inbound traffic to the site, these paintings represent consumers' favorite picks to decorate for spring.
overstockArt.com has analyzed the gallery statistics from over 2 million visitors coming to its online store to shop for spring art, and finds the following top five oil paintings to be the most desired and sought-after works for this time of year:
"Water Lilies (pink)," Claude Monet– This pink rendition of Monet's famous series of paintings is an ideal symbol of spring, highlighted by vivid shades of pink, purple, blue, and red.
"Rosina Capri," John Singer Sargent – A portrait of Rosina Ferrara dancing in Capri, characterized by an exceptional use of color, detail, and brush strokes.
"Sunday Afternoon on the Island of La Grande Jatte," Georges Seurat – Seurat's most famous painting, and one of the 19th century's most acclaimed examples of Neo-Impressionism. The colors evoke emotional harmony, based on the ideas of pointillism.
"Vase with Fifteen Sunflowers," Vincent Van Gogh – A reminder of Van Gogh's pleasant days spent with another artist in the countryside. This painting symbolizes the power of the Post-Impressionist movement and the biographical nature of Van Gogh's work.
"Snap the Whip," Winslow Homer – One of Winslow Homer's most captivating depictions of children playing, augmented by rich and beautiful imagery.
"By analyzing the visits and purchases of featured paintings on overstockArt.com, we are able to cite the most popular examples of decorative art for spring. The diversity of this selection reflects the international range of consumers who come to our site, as well as the seasonal trends that influence this spike in demand and on-site traffic. These masterworks are a smart gift for friends and coworkers who want to enliven a home, apartment, office, or other settings. I encourage people to explore overstockArt.com to see the full selection of items we carry," says David Sasson, CEO of overstockArt.com.
Visitors can view the entire gallery of spring art at our Seasonal Spring Art Gallery.