Top 'Liked' Art Posts from Facebook December 2011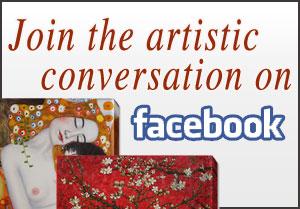 The following is a list of the top posts of the week that we've shared with our facebook friends on the overstockArt.com facebook page. We try and make our facebook posts informative and engaging as we love to hear what our fellow art lovin' friends have to say about particular artists and their art. So if you have a moment, check out the overstockArt.com facebook page and share your passion for art and wall decor with us!
The ornate decorations of the holiday season can bring to mind the highly decorative art of Austrian Symbolist painter Gustav Klimt (1862 – 1918)?, particularly the bold and lavish works of his Golden Phase like "The Kiss".

The son of a gold engraver, Klimt's work is often distinguished by elegant gold or colored decoration, by spirals and swirls. Klimt made prominent use of gold leaf in many of his paintings during his Golden Phase. These works are noted for figures (painted without shadows) which are composed of flat, highly patterned areas of decoration and which seem to radiate from the canvas. For our full gallery of Klimt's richly decorative work, visit The Gustav Klimt Gallery.

Vincent Van Gogh "Starry Night" Most Popular Oil Painting in 2011 – We released our Annual Top 10 List; Van Gogh Remains Most Popular Artist in the World. For the complete list and more about the Top 10 Oil Paintings of the year go to: "Moonlight" feature solitary figures, have become classic images of nineteenth-century American life.

A versatile artist who displayed a wide range of subjects, styles, and mediums, Homer initially won acclaim for Civil War battlefront illustrations rendered for "Harper's Weekly" and is best known for his works that capture the beauty and mystery of the sea, but throughout his career Homer took several working vacations that produced a vast array of images depicting the inhabitants — mostly women and children — of farmlands and coastal villages in America and on England's North Sea.

Born last week in 1886 (d.1957), Mexican artist Diego Rivera rose to legendary status in his own lifetime. As famous for his tempestuous personal life and provocative political stance as he was for his larger-than-life murals, Rivera enjoyed international renown during his artistic career, but since his death a continued tendency to focus on the details of his life and his controversial politics often takes precedence over appreciation of his artistry. "Nude with Calla Lilies" is a stunning reminder of Rivera's ability to masterfully present universal images and ideas in his art.

While Rivera's overall accomplishments as an artist are often overshadowed by the searing social and political commentary found in much of his work, his artistic legacy has also been further eclipsed in the last half century by a growing appreciation of and interest in the works of his wife and fellow artist Frida Kahlo. Yet Rivera's artwork, created for the masses, continues to hold mass appeal. Discover the art of Diego Rivera, or marvel again at his artistry, by browsing our collection of his work.

"No art is less spontaneous than mine. What I do is the result of reflection and the study of the great masters." -Edgar Degas

Given his playful subject matter, it can difficult to reconcile with the above Degas' quote with what we know of the artist's work. Furthermore, Degas' reputation as one of the founders of Impressionism – a style that was all about movement, and that many considered bohemian—lends to the idea that he painted any random dancing scene that happened to strike his fancy. Most people are not aware of the fact that Degas was a renowned draughtsman, and considered himself more of a Realist than an Impressionist.

Degas' earliest works were conventional historical paintings, but he is of course best known for his paintings and sculptures of dancers. He was taken with dancers because their grace and movement offered him an artistic challenge, and so he applied his academic artistry to their depiction. In an attempt to create prefect ballet scenes, Degas painted them repeatedly; dancers now account for more than half of his oeuvre.

Visit our entire hand painted Edgar Degas collection.

Using form and color, Georgia O'Keeffe (1887 – 1986) created organic compositions both intimate and dramatic. The swirling forms in "From the Lake I" capture attention and draw the viewer in, while the blues and turquoise impart a contrasting calm. Make a dramatic difference in your décor — enliven your home with the contained energy of O'Keeffe's "From the Lake I".

O'Keeffe developed a compelling personal style, and her abstract representations of the beauty of the American landscape are among the most innovative works produced by American artists in the early part of the 20th century.

Browse our entire Georgia O'Keeffe collection.

Very little is known about the life of Johannes Vermeer, which only adds to the intrigue of the unnamed subject of his masterpiece, "Girl with a Pearl Earring."

Vermeer (1632 – 1675) was baptized as "Joannis," but he is also called "Jan" or "Johan," depending on the source. He lived his entire life in the Dutch town of Delft, where he was both an art dealer and a painter. Vermeer's work was well-regarded in his hometown, but a local patron commissioned many of his paintings, and Vermeer's otherwise limited oeuvre prevented him from gaining wider fame. When painting, he worked slowly, and with great care, and scholars have determined that most of his works are set in the rooms of his home at Delft.

That the subject of "Girl with a Pearl Earring" may have been invited into the artist's home is one of many factors contributing to the painting's mystery. Romantics speculate that the girl is a lover of Vermeer's – a theory supported in part by the intimacy of her gaze. More pragmatic hypotheses suggest the girl is merely a model, and that the painting is a "tronie" – a popular genre that focused on facial expressions, rather than creating a recognizable portrait. Whatever Vermeer's motivation, there's no denying he created a classic.

Painted in 1869, Monet's "Thunderstorm" depicts the view from his family's coast-side retreat in Normandy, France. Stormy landscapes were far from Monet's vernacular at this point in his career. This painting in particular is noted for Monet's use of pale and luminous colors in the context of a fleeting state of nature. And, though "Thunderstorm" was met with criticism by the art salons of Paris, is seen as an achievement given Monet's personal challenge to stray from his normally bright palettes and sunnier scenes. But Monet's foray into gloomier subjects was never complete, as amidst this corner of thunderous landscape he renders a small boat romantically floating on the water – a sweet and wonderful detail to appreciate.
Gustav Klimt's richly colored and elaborately detailed "The Tree of Life" has become an iconic representation of the timeless themes of love and life, but while many may consider the work appropriate for the living room or bedroom, Klimt created the original work to adorn a dining room.

Klimt created "The Tree of Life" as a three part mosaic for the dining room of industrialist Adolphe Stoclet's palatial home in Brussels. Made of marble and adorned with precious stones and gold enamel, the original work would have provided quite the conversation piece for Stoclet's dinner guests!

Gustav Klimt's "Water Serpent" series contains his signature elements: highly ornamental areas, dazzling gold tones, and an erotic jolt involving a female subject. Klimt (1862 – 1918) rose from poverty to great significance in the Viennese Secession and Art Nouveau movement. Over the course of his career, he produced works depicting regeneration, love, death and explicit sensuality, embedded with symbols emphasizing the freedom of art from traditional culture. Gustav Klimt Paintings are a lavish palette of Egyptian, Classical Greek, Byzantine and Medieval styles.

Visit the complete Gustav Klimt Gallery to view more of the artist's muses.

The relationship between Vincent Van Gogh's art and his madness will always be debated, but Van Gogh may have expressed it best himself: "I put my heart and my soul into my work, and have lost my mind in the process." Although he suffered ongoing attacks (likely caused, at least in part, by epilepsy) van Gogh produced many of his most powerful works during his one year stay at an asylum in Saint-Remy, France. Capturing the life force inherent in nature, "The Mulberry Tree" is a striking example of van Gogh's output while in voluntary confinement at the asylum.

Seemingly at the height of his artistic ability, Van Gogh's stay in Saint-Remy proved to be one of the most productive periods of his career; tragically, the paintings produced were among his last — he took his own life just months after leaving the asylum. Exhibitions following his death finally brought van Gogh's work the fame he never received during his life. An inspiration for the Expressionists, a continuing influence on generations of artists, van Gogh created a lasting legacy as one of the most acclaimed artistic geniuses of the modern era.
This is it! We hope you will continue to enjoy reading our ArtCorner blog and come join us on facebook for more artistic discussions!